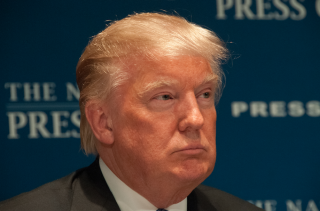 Donald Trump has made hyperbole his personal brand. But when it comes to his own alleged wrongdoing, his talking points go from "yuge" to "nothing to see here, folks." During last night's debate, Trump responded to questions about his having defended a federal lawsuit for housing discrimination. Trump painted the picture of a nuisance lawsuit, filed against multiple defendants, which fizzled out once rabid government lawyers realized they had nothing to back up their hollow claims.
"When I was really young, I went into my father's company, we along with many, many, many other companies, throughout the country, it was a federal lawsuit, were sued. We settled the suit with zero — no admission of guilt. It was very easy to do. But they sued many people." — Donald Trump
Sure, that explanation sounds reasonable. Large companies often deal with frivolous litigation as a cost of doing business. But Trump's story here just isn't supported by the facts.
Trump's characterization of himself as his dad's newbie apprentice was pretty clever. In reality, though, in 1973, when the Department of Justice filed a civil rights case accusing the Trump firm of Fair Housing Act ("FHA") violations, Donald Trump was twenty-seven, and was the president of the company. Similarly misleading is the depiction of the Trumps as one family wrongly accused amidst a sea of other defendants. But one look at the pleadings shows the case caption as United States v. Fred C. Trump, Donald Trump, and Trump Management, Inc..   There may have been "many, many, many other companies" sued at other times, but the Trumps weren't sued "along with" anyone. They were sued. Period. The fact that other landlords with other buildings may also have violated the FHA at some point isn't remotely relevant to the DOJ's allegations against the Trumps for their wrongdoing.
Speaking of allegations, let's take a minute to review the ones against Trump and his family. The DOJ's case against the Trumps was based on a pattern of widespread discrimination against racial minorities who had been seeking apartments. Undercover government investigators posed as potential tenants; those who were white were given their choice of apartments to rent. Those who were black or Puerto Rican were turned away. Trump employees also allegedly used a secret notation system to mark the applications of minority applicants, and evidence gathered pointed to systematic violations of the FHA.
The case against the Trumps had been unprecedented in scope. The Trump firm owned 14,000 apartments – and this lawsuit was one of the biggest ever brought by the DOJ for Fair Housing violations. Whatever analysis we might do of the merits of the case itself, there is simply no rational way to view this lawsuit as an inconsequential nuisance. It was a big deal. Donald Trump and his father knew it back in 1973, and Trump the Candidate knows it now.
During the lawsuit itself, the Trump defendants did everything in their power to strike back against the DOJ. They filed a $100 million counterclaim for falsely accusing them (it was dismissed), they attacked the credibility of one DOJ lawyer (that went nowhere), and they asked that another one be held in contempt (the judge refused). In the end, and despite Donald Trump's public statements that he wouldn't settle, the Trumps and the DOJ came to a consent decree to resolve the litigation.
Trump's depiction of having easily settled the lawsuit in 1975 without consequence to him would be amusing if it weren't so disturbing. In reality, the Trumps hired Roy Cohn, a defense attorney who had been a top aide to Sen. Joseph McCarthy, to represent them in what became a grueling 20-month legal battle. The lawsuit played out in the headlines as well as the courtroom, and in the end, the Trumps were prohibited from "discriminating against any person in the terms, conditions, or privileges of sale or rental of a dwelling," and were ordered to "thoroughly acquaint themselves personally on a detailed basis" with the Fair Housing Act. The agreement also required the Trumps to place ads informing minorities they had an equal opportunity to seek housing at their properties.
The 1973 housing discrimination lawsuit may have been the point of origin for Trump's now-branded crisis-management philosophy; outright denial appears to be Trump's go-to method of explaining anything unfavorable in his past.   Essentially, the Trumps lost this lawsuit. The government had compelling evidence and walked away with a settlement lauded by everyone from the New York Times to the DOJ lawyer herself as "a clear victory" for victims of discrimination. Newspaper headlines read "Minorities Win Housing Suit," and explained that "qualified Blacks and Puerto Ricans now have the opportunity to rent apartments owned by Trump Management."
Politicians will always spin. That's just part of the reality that is campaigning. But major federal lawsuits aren't internet rumors. These are real investigations that amounted to real charges and resulted in real consequences, whether Donald Trump will acknowledge it or not.
Follow Elura Nanos on Twitter @elurananos
This is an opinion piece. The views expressed in this article are those of just the author.
Elura Nanos - Columnist & Trial Analyst, Law & Crime; CEO Lawyer Up