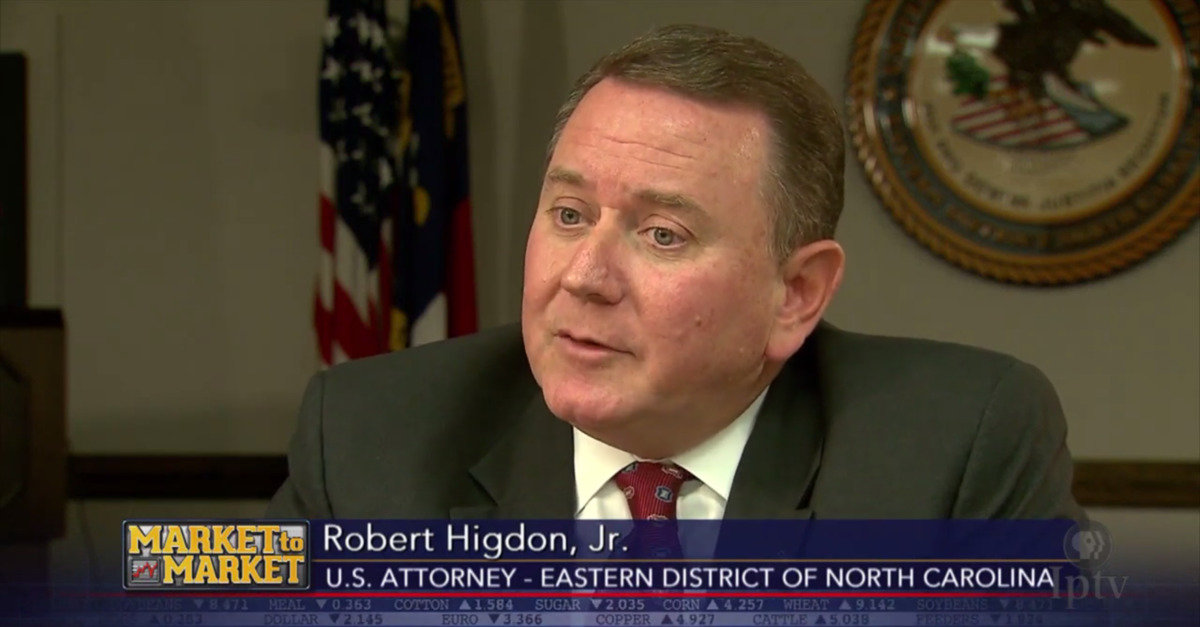 One of President Donald Trump's handpicked federal prosecutors in North Carolina appears to have ignored multiple and repeated warnings from state officials that Republican campaign operatives were illegally manipulating absentee ballots in the contest for the Tarheel state's 9th Congressional District. Meanwhile, U.S. Attorney Robert Higdon Jr. focused his office's efforts on prosecuting legal residents who mistakenly thought they were allowed to vote.
According to the Washington Post, Higdon's office rounded up 20 immigrants over the course of several days last August. Many of those arrested were "handcuffed and shackled" as they were charged with unlawfully voting during the 2016 presidential election.
So far, however, it's been very much ado about very minor legal violations–the five defendants who have already been sentenced received misdemeanor charges and fines between $100-200; one man received time served; no one has been given any jail time for the misdemeanor of voting while alien.
Jose Solano-Rodriguez was canvassed by campaign workers on various occasions and even told he could vote by election volunteers. They were wrong and he was one of the people arrested last August. But it gets a bit more complicated than that.
According to Solano-Rodriguez's attorney, his client never personally filled out a voter registration application. Solano-Rodriguez, who runs a successful landscaping business, was at work while someone with a voter registration drive dropped by a party being held at his home. Somehow, an application was filled out in his name.
The next thing Solano-Rodriguez knew, the Wake County Board of Elections had mailed him a voter registration card. Public defender James Todd said that his client assumed it meant he was supposed to vote. So he did.
"I want to tell my people: Don't vote," he told the Post. "They tell you, 'You can vote.' But don't do it."
A similar incident played out with Hyo Suk George. She was feeding her rabbits and chickens when she was arrested. George was allowed to change her clothes before being taken into custody–but only with a federal agent watching her.
George was encouraged to register and vote by a member of her church. According to her public defender Sherri Alspaugh, her client was unaware that she wasn't allowed to vote. And neither was the elections official who processed her application.
During a court hearing last month, Alspaugh said that George presented her legal permanent residency card, her driver's license and her Social Security card when she applied for her voter registration card. The official processing her application processed her application anyway.
The Post offered the following back-and-forth:
"So they see a green card and they say, 'That's fine, you can register'?" U.S. District Judge Terrence W. Boyle asked Alspaugh.

"Yes, sir," Alspaugh replied.

"Because they don't know what they're doing!" the judge said.
This state of affairs so upset Judge Boyle that he upbraided Assistant U.S. Attorney Sebastian Kielmanovich during George's sentencing where she was ultimately fined $100.
"Maybe as much attention as is focused on illegal voting should be focused on management of elections so they are not encouraging people to vote who are not eligible to vote," Boyle told Kielmanovich. The federal prosecutor quickly agreed.
But Higdon and his team haven't taken that advice to heart–in fact, they've only stepped up their previous efforts. Just after those raids in August, the U.S. Attorney's Office for the Eastern District of North Carolina subpoenaed 15 million voting records from 47 state and county agencies and election boards.
And state elections officials are challenging those subpoenas in court by noting that they would cost millions of dollars and devote other resources away from other work and ongoing investigations–like the one into the shenanigans alleged in the 9th Congressional District race between Republican Mark Harris and Democrat Dan McCready.
"Compiling records would have burdened state and county elections administration–commandeering staff-time for weeks," said Josh Lawson, who serves as the general counsel for the North Carolina State Board of Elections (NCSBE).
While Higdon's office used their resources to bolstering the Trump administration's oft-repeated–and mostly untrue–claims about the scourge of illicit voting, election officials in North Carolina found blind eyes and deaf ears when they attempted to present evidence of the absentee ballot fraud machine allegedly run by GOP campaign operative McCrae Dowless in Bladen County that many experts believe may have swung the race to Harris.
An April 2017 audit by the NCSBE determined that there were "irregularities affecting absentee by-mail voting in Bladen County." Higdon's office declined to look into those irregularities. Various other warnings were also ignored.
"His office is extremely interested in noncitizens who vote and made a huge deal out of that and subpoenaed all kinds of documents, but he has no interest in this other matter?" said Marshall Tutor, a former investigator with the NCSBE. "It's cherry-picking."
Higdon has refused to comment on his office's priorities viz. immigrant voting and alleged GOP-engineered ballot fraud, but released a statement trumpeting one of those misdemeanor sentences immediately after the raids:
The right to vote is a precious privilege available only to citizens of the United States. When a non-citizen votes in a federal election it serves to dilute and devalue the vote of American citizens and places the decision-making authority of the American electorate in the hands of those who have no right to make those choices.
[image via screengrab/Market to Market/PBS]
Have a tip we should know? [email protected]