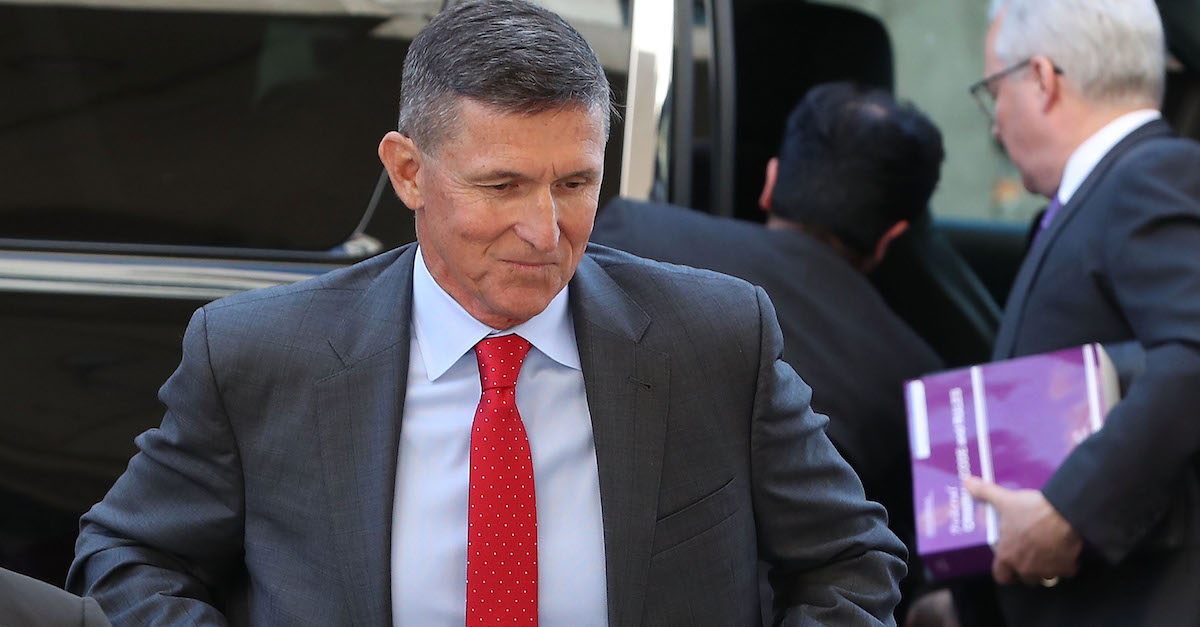 Fired National Security Advisor and admitted felon Michael Flynn reportedly pursued the transfer of nuclear technology to Saudi Arabia. Whistleblowers are saying that the National Security Council's ethics lawyer found that Flynn may violated a conflict of interest statute.
Despite the lawyer's recommendation that this should be abandoned, top Flynn aide Derek Harvey allegedly continued on, speaking to Flynn "every night" even after Flynn was fired for lying to the FBI. Flynn has since pleaded guilty to that crime and cooperated with investigators in multiple ongoing probes.
One of those investigations, we learned, had to do with Flynn's ex-business partner Bijan Kian. Kian and Turkish-Dutch national Kamil Ekim Alptekin were allegedly involved "in a conspiracy to covertly influence U.S. politicians and public opinion against a Turkish citizen living in the United States whose extradition had been requested by the Government of Turkey." That Turkish citizen has been identified as cleric Fethullah Gulen. Gulen was accused by Turkish President Recep Tayyip Erdogan of orchestrating a failed coup.
Another one of these up-to-now redacted investigations Flynn may have flipped on was revealed on Tuesday. Here are the key takeaways.
Dealings with Saudis Raise Questions About Trump Administration Policy
The House Oversight Committee has opened an investigation. Rep. Elijah Cummings (D-Md.) already commented that the investigation is "crucial" for understanding the Trump Administration's aims.
Flynn was allegedly involved in the following proposal, per NBC News:
The proposal, which involved enlisting the U.S. nuclear power industry to build nuclear plants across the Middle East, was backed by a group of retired generals who formed a firm called IP3. Flynn described himself in financial disclosure filings as an "advisor" to a subsidiary of IP3, IronBridge Group Inc., from June 2016 to December 2016 — at the same time he was serving as Trump's national security adviser during the presidential campaign and the presidential transition, the report says.
Not only was Flynn told he might have violated the law, the Trump administration's pursuit of this nuclear tech transfer, Cummings said, appears "ongoing."
These goals may even raise new speculation about why President Donald Trump, for instance, responded the way he did in the aftermath of Saudi Arabian agents' assassination of journalist and permanent U.S. resident Jamal Khashoggi.
Rick Gates Knew About This, Too
Flynn's aide Derek Harvey reportedly had a conference call with Trump friend Tom Barrack and former Trump campaign deputy chairman Rick Gates. Gates, it should be noted, was also deputy chair of the Trump Inaugural Committee, which is also under investigation by federal prosecutors. If Gates knew about it Special Counsel Robert Mueller likely knew about it.
What this means is that, in all likelihood, the reason Mueller keeps pushing back Gates' sentencing status updates is that Gates has cooperated in the cases against Paul Manafort, Flynn, and perhaps the Trump Inauguration.
Federal prosecutors in Manhattan are reportedly looking into whether Trump's Inauguration Committee misspent some of the $107 million raised from contributors or accepted money in exchange for access and influence within the Trump administration.
Remember the Judge Who Wondered if Flynn Could Be Accused of "Treason"?
Back in December 2018, Law&Crime's Ronn Blitzer aptly described U.S. District Judge Emmet Sullivan wondering aloud about Flynn and treason as a "crazy idea." Sullivan knew it, too.
Sullivan blasted Flynn during his sentencing hearing, particularly for acting as an unregistered foreign agent for Turkey.
"You were an unregistered agent of a foreign country while serving as the National Security Advisor to the president!" he said. "Arguably, this undermines everything this flag over here stands for! Arguably, you sold your country out!"
He asked prosecutors if Flynn's conduct "rises to the level of treasonous activity?"  and then asked again, "Could he have been charged with treason?" Mueller's team said no, pointing out that Flynn had ceased his dealings with Turkey before he took office.
Sullivan called for a recess and when he came back, he said, "Don't read too much into the questions I asked. I'm not suggesting he committed treason."
The rest of the day went without much more ceremony and Sullivan declined to sentence Flynn then and there. He gave the parties until March 13 to file a status report with the court. It would be interesting to see how Sullivan might react to the revelation that Flynn may have knowingly and willfully violated or directed someone to violate the law for the purpose of pushing through a nuclear technology transfer involving a foreign power that has most recently been implicated in a murder and a cover-up that received global attention.
Bonus: All of This Makes the Narrative that Flynn Was Entrapped Look Pretty Bad
All of the days-on-end debate about whether the FBI did or didn't entrap Flynn basically ended when Flynn was given multiple opportunities to challenge the circumstances of the FBI interview that got him busted in court, and he declined do so.
Remember when Mueller said this to silence the doubters? "When the defendant said he did not remember something they knew he said, they used the exact words the defendant had used in order to prompt a truthful response. But the defendant never corrected his false statements. The interview was voluntary, and lacked any indicia of coercion."
The current investigation isn't dealing with "mak[ing] false statements about his communications with the Russian ambassador (Kislyak) weeks before the FBI interview." It's about national security. 
[Image via Mark Wilson/Getty Images]
Have a tip we should know? [email protected]