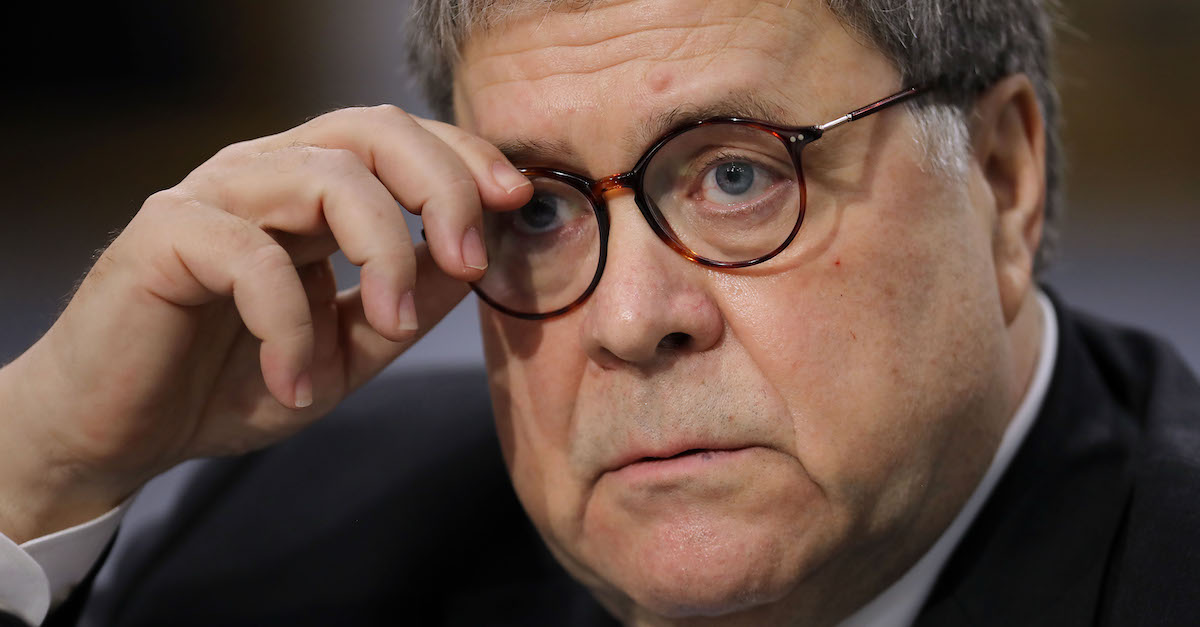 No collusion. Thank you and good day.
U.S. Attorney General William Barr's Thursday press conference ahead of the release of Robert Mueller's report was mocked when it was announced on Thursday and it's being trashed now that it's happened. Critics said that it was clear Barr was doing this to get out in front of the report for President Donald Trump's benefit, and critics came away saying very much the same.
Barr stated that there was no conspiracy between Trump/Trump campaign and Russia, while emphasizing that the president's "no collusion" refrain was vindicated. He also said, once again, that there wasn't sufficient proof of corrupt intent to allege obstruction of justice.
Pundits, reporters, and lawyers quickly noted that Barr had made no mention of any of the Trump campaign members/associates who were charged and found guilty due to the Mueller probe, but had portrayed Trump as a man upset about a politically-motivated investigation undermining his presidency.
Some said the harmony between Barr's and the White House's talking points were clear as day.
Remember that Barr isn't actually trying to convince anyone here. He's creating clips that the White House hopes TV news will use to frame their packages tonight.

— Ezra Klein (@ezraklein) April 18, 2019
this is straight-up PR

— John Harwood (@JohnJHarwood) April 18, 2019
Barr word choice and overall framing of the Mueller findings is staggeringly consonant with White House framing and rhetoric

— Josh Gerstein (@joshgerstein) April 18, 2019
Neal Katyal: "There is no reason whatsoever why the report shouldn't have been given first before the Barr press conference except so that Barr could get out his talking points and try and influence the direction of the country first ahead of time." @MSNBC

— Kyle Griffin (@kylegriffin1) April 18, 2019
Barr's press conference was a remarkable apologia for POTUS, defending the obstructive behavior detailed in the report (but not described by the AG) in the most sympathetic and benign terms imaginable. The AG has forfeited the benefit of the doubt many have given him.

— Michael R. Bromwich (@mrbromwich) April 18, 2019
Trump's best appointment (from his point of view) must be Bill Barr. Wow. This performance is a legal embarrassment.
There is no good reason for this press conference hours before the release of the report. Propaganda. Disgusting.

— Rick Hasen (@rickhasen) April 18, 2019
"He said precisely what the president of the United States wanted to hear: No collusion," @wolfblitzer says after AG Barr's press conference.

— Oliver Darcy (@oliverdarcy) April 18, 2019
Given Barr's repeated characterization of the report in this speech, the DOJ's failure to release it in advance of this press conference smacks of narrative control and cannot immediately be scrutinized one way or another.

— Adam Klasfeld (@KlasfeldReports) April 18, 2019
Chris Wallace on Fox: "The Attorney General seemed almost to be acting as the counselor for the defense, the counselor for the president, rather than the Attorney General, talking about his motives, his emotions… Really, as I say, making a case for the president."

— Michael M. Grynbaum (@grynbaum) April 18, 2019
The brevity of the question answering also reinforced the idea that the press conference was a PR stunt.
To say the Barr "press conference" was unsatisfactory is quite an understatement—far too short, inadequate in explanation, mainly or wholly spin, sounding more like Rudy Giuliani than the Attorney General of the US.

— Larry Sabato (@LarrySabato) April 18, 2019
Press conference sure ended abruptly when Barr got tough questions about criticism of his conduct including from Republicans

— Laura Rozen (@lrozen) April 18, 2019
Not everyone felt this way.
Watching AG Bill Barr's press conference.He is a true statesman, one of a very few in Washington these days. He is going by the book, regardless of the intense smears against him by the media & the Dems

— Mark R. Levin (@marklevinshow) April 18, 2019
But when Barr was asked directly by a reporter whether the press conference was being held as an opportunity to "spin" Mueller's findings, Barr ended the press conference.
Here's that moment. pic.twitter.com/7kYIvGSiaR

— Cristian Farias (@cristianafarias) April 18, 2019
[Image via Chip Somodevilla/Getty Images]
Have a tip we should know? [email protected]