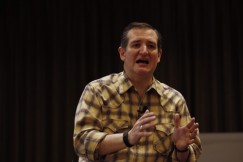 In 2013, just a year after his election to the U.S. Senate, then-freshman Senator Rafael Edward "Ted" Cruz, rose to national prominence with an informal filibuster, or "fauxlibuster," over funding the Affordable Care Act or, more affectionately, Obamacare. To the chagrin of Democratic and Republican colleagues alike, Cruz made politically slippery arguments from his soap box as he articulated an ostensibly symbolic, nonsensical verbal crusade in which he referenced both the Nazis and the Little Engine That Could—a salient cocktail of American tenets: fear and stick-to-itiveness.
The pugnacious Texas Republican led a vacuous and vain cruzsade to halt the funding of Obamacare; however, his meretricious filibuster was a fruitless facade: Obamacare had already been funded and Cruz's narcissistic absurdism had politically damaging effects on the GOP.
At Saturday night's CBS Republican Presidential Debate, Cruz vowed to filibuster any nominee put forth by President Obama. Sunday, on ABC's "This Week," Cruz reiterated his moral-political imperative to "absolutely" filibuster any nomination. Pragmatism be damned, Cruz made the blind pledge to block any nominee, going so far as to say the Senate has no obligation to consider an Obama nominee. "Not remotely," he said.
Cruz dismissed the notion that the Senate has an obligation to consider an Obama nominee since the presidential election is still about nine months away. The Constitutional originalist appears to be reading provocative partisanship into the interpretation of Art. II, clause 2 of the supreme law of the United States which states, in part, the President "shall nominate, and by and with the advice and consent of the Senate, shall appoint… judges of the Supreme Court." The Senator, who holds the Constitution so dear, has sadly let ambition subsume his reasoning.
If Ted Cruz was to filibuster President Obama's nomination, it would mark the first successful filibuster of a Supreme Court justice in American history; there's very little precedent for that Ted. In 1968, President Lyndon B. Johnson, a Democrat, attempted to fill the seat of retiring Chief Justice Earl Warren by promoting Associate Justice Abe Fortas to chief justice in his last year in office. A mix of majority Senate Republicans and Democrats protested against Fortas and delayed the vote. While some consider it a filibuster because it, in effect, served the same purpose, it has not been documented as an official filibuster because it did not meet the official definition.
A filibuster is a tactic that can be used in the Senate to prevent or delay the passage of the bill. Once a Senator is granted the right to speak on the floor, they can speak for as long as they are able to—indefinitely. Senator Cruz's first filibuster came in at just over 21 hours.
The most recent filibuster precedent is—shockingly—a previous Obama nominee, Associate Justice Elena Kagan. After Justice John Paul Stevens announced his retirement in 2010, the Senate threatened to filibuster Justice Kagan's appointment. But that was just a threat, the filibuster never happened.  That was less than halfway through Obama's first term as president. The "lame duck" argument promulgated by Cruz and his cronies is veiled political chicanery.
Cruz is right, the 2016 election is a referendum, but the 2012 election was too and, let us not forget, President Obama won by a margin of 5 million votes.
[h/t WashingtonPost]
Have a tip we should know? [email protected]