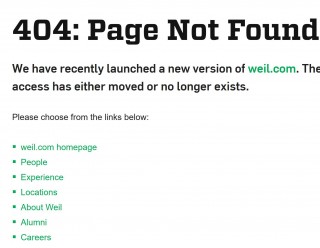 Several hours after we posted a story about how a high-profile New York law firm posted an insensitive press release bragging about how they fought off a class action lawsuit filed against their client —  tobacco giant Phillip Morris — the press release is mysteriously gone from the law firm's website.  You can see from the picture above that you now get an error message if you visit the page.
By way of background, the plaintiffs, a class of Massachusetts smokers, argued that Philip Morris knew cigarettes were dangerous and defective, could have made them safer and therefore should cover the costs of tests to assess whether the smokers had developed lung cancer. Some law experts thought the plaintiffs had a pretty good case. However, a jury found that the company did not have to offer the smokers CT scans.
The law firm that represented Phillip Morris, New York based Weil Gotshal and Manges issued a press release which seemed to tout their "monumental" win over "all Massachusetts smokers of Philip Morris USA cigarettes who have smoked for 20 pack-years, with a total class size estimated to be in the tens of thousands."​
The press release went on to say:
"Plaintiffs sought a comprehensive program that would have included yearly low dose CT scans, which are now the standard of care for the early detection of lung cancer for certain patients."
Yes, they appeared to be very enthusiastic about denying smokers "the standard of care" for early detection. As of about 8 p.m Tuesday evening, the press release was removed.
Their client, Phillip Morris, declined to comment.
Have a tip we should know? [email protected]
Rachel Stockman - President / On Air Host