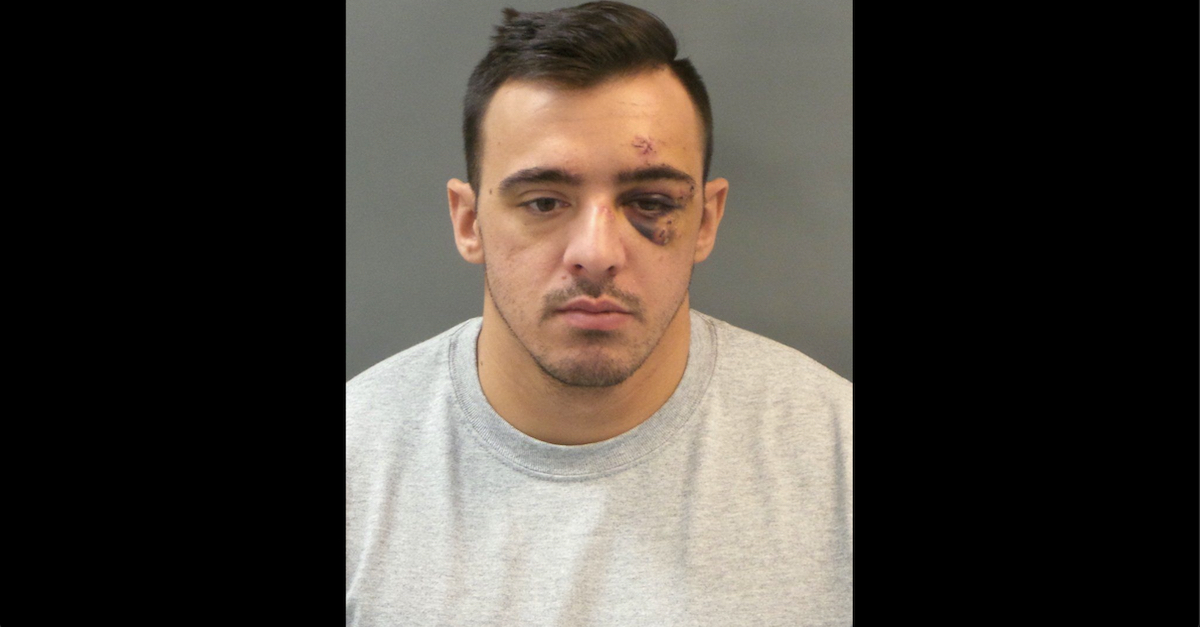 The St. Louis police officer charged with involuntary manslaughter in the so-called "Russian roulette" shooting death of 24-year-old Officer Katlyn Alix has been released from jail after his relatives posted bond.
According to the St. Louis Post-Dispatch, Nathaniel Hendren, 29, saw his bond change from $50,000 cash only to $100,000, but the relatives were allowed to post 10 percent of that so he could be released. Other requirements: Hendren is going to be under house arrest and electronically monitored. He also has to hand in his passport and guns.
Associate Circuit Judge David Roither did say some things that sparked a quick response from the defense. Roither, speaking on his own knowledge of firearms, said "you don't point a muzzle at anything you don't intend to shoot."
Hendren's defense attorney Talmage Newtown IV said that there's still a lot to be learned about what happened, and cautioned people not to jump to conclusions.
"I think that this case is at the very beginning. The police report is not complete. Any of the facts and evidence are not in public domain right now," he said. 'The statements that were made [by the judge] are based purely on the state's allegations, the complaint and the charging document. I again urge everyone to keep an open mind and wait to see all of the facts when they come out. Then we can make decisions about what we believe happened in that room that day."
Speaking of the state, prosecutors in St. Louis on Wednesday accused the St. Louis Police Department of using an "obstructionist tactic" amid the ongoing investigation into the homicide.
St. Louis Circuit Attorney Kim Gardner outlined those serious accusations in an open letter addressed to St. Louis Metropolitan Police Department Commissioner John Hayden and St. Louis Director of Public Safety Jimmie Edwards. Gardner says there is probable cause suggesting that alcohol or other drug might have played a role in the controversial death.
As Law&Crime previously reported, Hendren was arrested and charged with one count each of involuntary manslaughter and armed criminal activity over Alix's death. The two had allegedly taken turns firing a pistol chambered with a single round until Hendren shot Alix in the chest. Alix was then rushed to a hospital where she was pronounced dead.
"Our team asked your staff…to work with my office to produce [a] probable cause statement required for a search warrant pursuant to conducting a blood draw for the two officers as there was probable cause at the scene that drugs or alcohol may be a contributing factor in a potential crime," Gardner said. "My staff was told…that your department would see about [testing] the two officers, and they would let us know if they needed a search warrant," Gardner continued. "Consequently, we began preparing a search warrant for the purposes of having blood drawn."
Police recently commented, as well, on the black eye Hendren had in his mugshot.
Hendren reportedly head-butted and broke the back window of a police SUV that was parked at the hospital. Hendren sustained minor head injuries and was then given a hospital bed where he remained until being taken into custody.
Colin Kalmbacher contributed to this report.
[Image via St. Louis Police Department]
Have a tip we should know? [email protected]