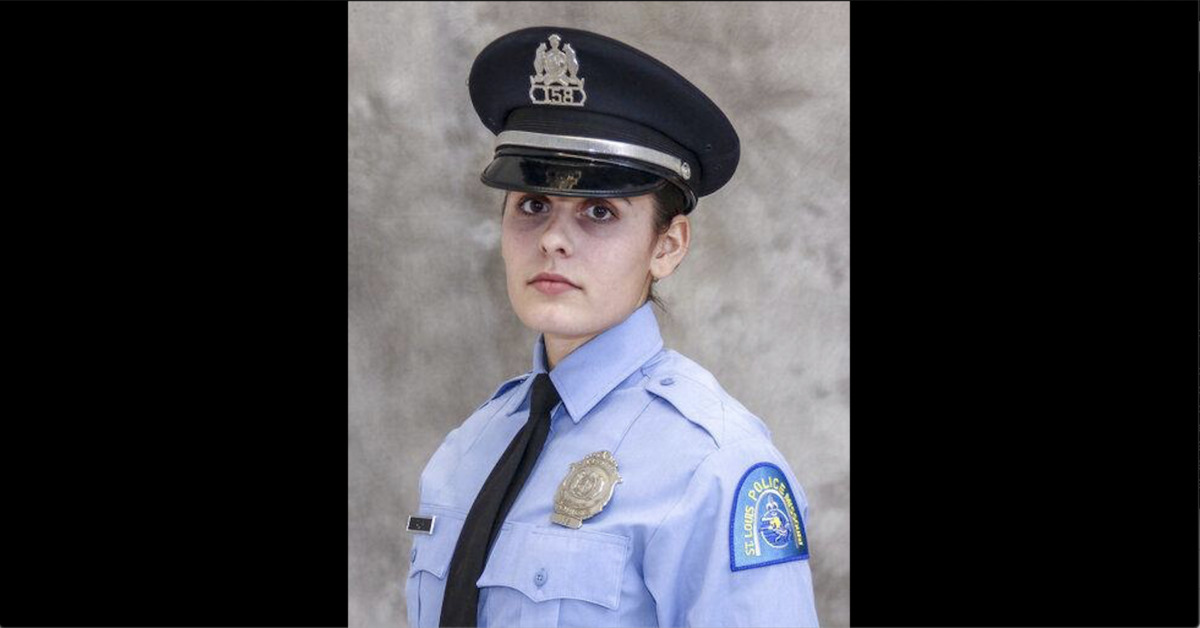 A police officer in St. Louis was charged with involuntary manslaughter after allegedly shooting and killing a fellow officer during a game of Russian Roulette.
According to the St. Louis Post-Dispatch, 29-year-old Officer Nathaniel R. Hendren was also charged with armed criminal action over the death of 24-year-old Officer Katlyn Alix. The two had allegedly been playing with various firearms before the fatal incident.
In the probable cause affidavit obtained by the outlet, Hendren allegedly said that he and Alix took turns firing a revolver at one another after all but one of the bullets had been removed and replaced. Hendren allegedly spun the cylinder and squeezed the trigger first but nothing happened.
Then it was Alix's turn.
According to court records, Alix took the gun and pointed it at Hendren before squeezing the trigger. Again, nothing happened. On Hendren's second go-round, he allegedly pointed the gun at his fellow officer and squeezed–striking Alix in the chest and killing her.
Authorities initially described the death as an "accidental" tragedy that occurred because Alix "mishandled a gun." On Friday, however, investigators and prosecutors came to a different conclusion.
"Chief [John] Hayden promised Officer Alix's family that he would ensure that our Force Investigation Unit would conduct a thorough and competent investigation regarding this incident," noted department spokesperson Sergeant Keith Barrett. "Today detectives of the Force Investigation Unit presented their initial findings to the Circuit Attorney's Office which resulted in warrants being issued for Involuntary Manslaughter and Armed Criminal Action."
St. Louis Circuit Attorney Kim Gardner said:
I have said many times before that I will hold people accountable who violate Missouri law, regardless of their profession, public status and station in life. Today, as much as it saddens me and my staff to file these charges, Katlyn and her family deserve accountability and justice.
Hendren was on-duty at the time of the incident and was joined by his partner who as of yet has not been named. But instead of patrolling their beats, the two were allegedly hanging out at Hendren's apartment–two miles away from where they were supposed to be patrolling. Law enforcement sources cited by the Dispatch noted that this was in violation of the St. Louis Metropolitan Police Department Manual.
"[An officer should] constantly patrol his/her beat, except when on special assignments and shall not lounge, loaf or gather with others at any place," the manual notes.
Alix was not on-duty at the time she died.
According to statement from Hendren's partner to investigators, he told the duo not to play with guns and said that he reminded them they were both police officers who shouldn't be doing such things. Hendren's partner then allegedly said he wanted nothing to do with the firearms play and attempted to leave Hendren's apartment but heard a shot before he made it out of the building.
The shooting was reported by both Hendren and his partner at 12:56 a.m. on Thursday. Alix was then loaded into their police vehicle and taken to St. Louis University Hospital where she was pronounced dead shortly after arrival.
Alix is survived by her parents, sister and husband.
If convicted, Hendren faces up to 10 years in prison.
[image via St. Louis Metropolitan Police Department]
Have a tip we should know? [email protected]