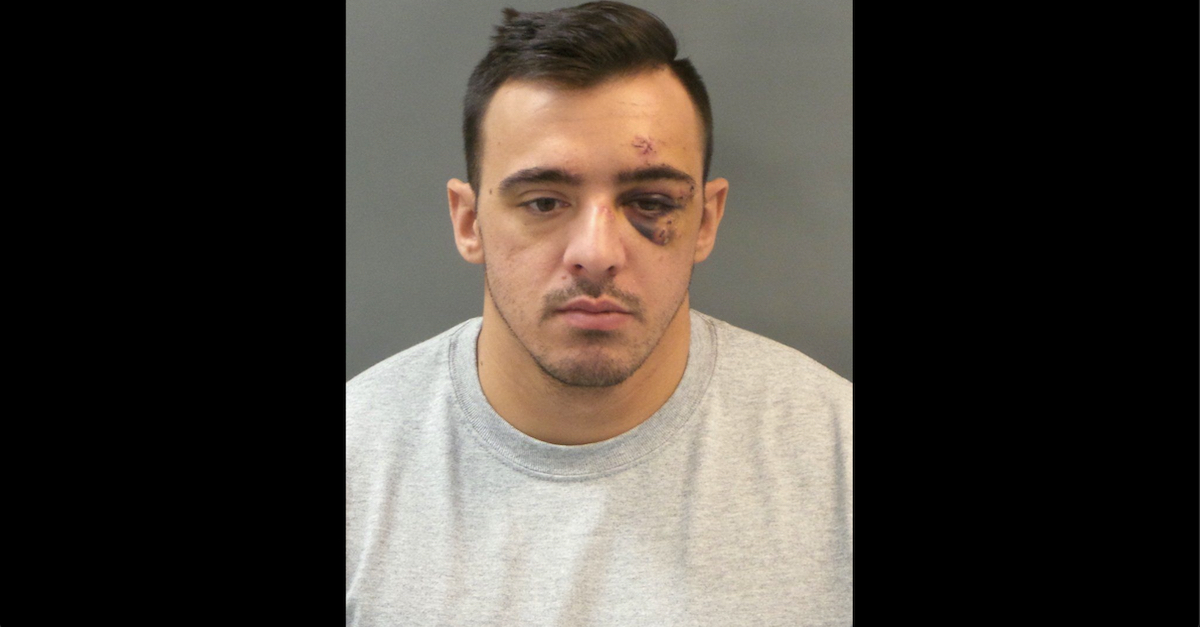 The St. Louis police officer who allegedly shot and killed a fellow officer during a game of Russian Roulette apparently gave himself a black eye just minutes after the "tragic accident."
According to the St. Louis Post-Dispatch, 29-year-old Officer Nathaniel Hendren was booked into St. Louis County jail on Monday after a brief period of hospitalization due to self-inflicted injuries while he waited outside SSM Health St. Louis University Hospital where Officer Katlyn Alix was pronounced dead shortly after arrival last week.
Hendren reportedly head-butted and broke the back window of a police SUV that was parked at the hospital, according to sources cited by the outlet. Hendren sustained minor head injuries and was then given a hospital bed where he remained until being taken into custody on Monday morning. A booking photo released by police shows the apparent results of that head-butting episode: a scratched forehead and black eye.
As Law&Crime previously reported, the rookie St. Louis police officer had already been charged with one count each of involuntary manslaughter and armed criminal activity over Alix's death.
According to a probable cause affidavit, Hendren allegedly said that he and Alix took turns firing a revolver at one another after all but one of the bullets had been removed and replaced. Each officer allegedly squeezed the trigger one time apiece but nothing happened. On Hendren's second attempt, however, the lone bullet allegedly exited the revolver's chamber, striking Alix in the chest and killing her.
Alix was off-duty at the time of her death but had gone over to Hendren's apartment to hang out with Hendren and his partner–both of whom were on-duty at the time of the incident. Hendren's partner allegedly protested and then tried to leave once the game of Russian Roulette began, but stopped short after hearing a gunshot on the way out, according to court documents.
The three officers have been described as "close friends" and "frequent partners," according to the Post-Dispatch.
St. Louis Police Department officials initially described Alix's death as the result of a "mishandled" firearm but quickly backtracked after investigators gathered additional details.
Talmage Newton IV is Hendren's attorney in the criminal case. He offered condolences to Alix's family in a statement released Monday.
"The death of Officer Katlyn Alix was a tragic accident that has unalterably impacted the lives of everyone involved," Newton said. "I urge the public, as well as members of the police department, to wait until the investigation is complete, and all of the facts have been presented, before coming to any conclusions about what they believe happened that unfortunate morning."
Alix's family has hired a legal team that anticipates filing civil lawsuits over the 24-year-old officer's death.
"Certainly, we're looking into all avenues … including, potentially, civil litigation," attorney Scott Rosenblum told the Post-Dispatch. "The family is convinced that with Katlyn's training, both police and military, there remains a substantial amount of unanswered questions … questions about the circumstances of the event."
Both Hendren and his partner–who has still not been named–were placed on administrative leave immediately after Alix's death. Hendren was suspended from the police force on Monday after he was taken into custody.
If convicted on both counts, Hendren faces up to 10 years in prison.
[image via St. Louis County Jail]
Have a tip we should know? [email protected]