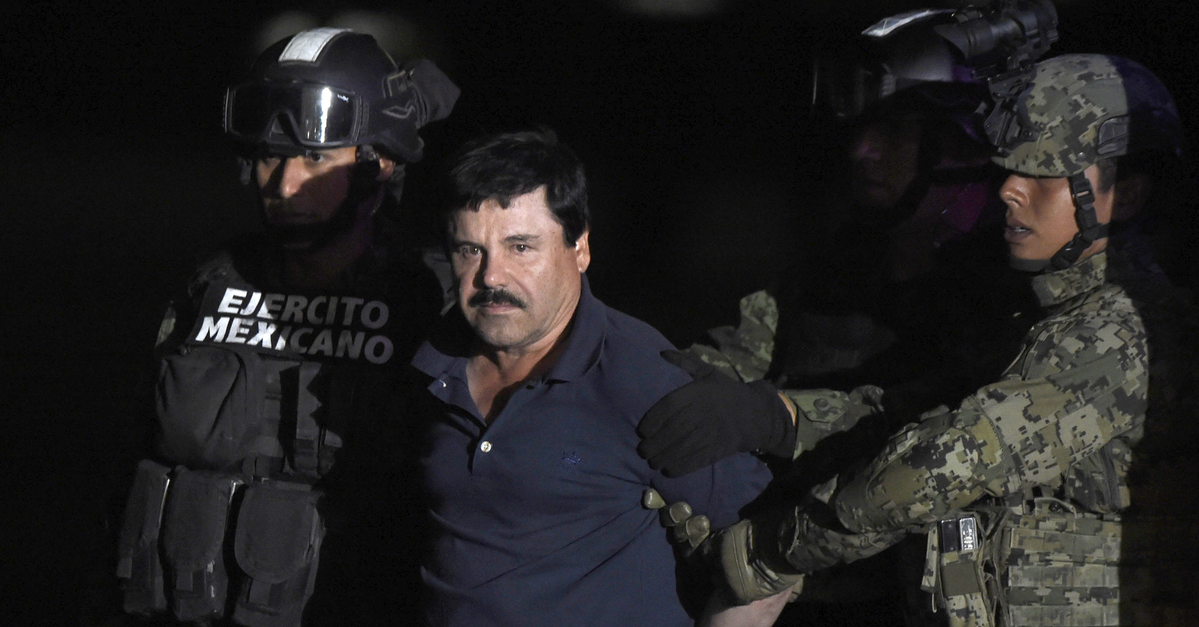 While there had been some fireworks over the course of Joaquin "El Chapo" Guzman Loera's trial, including his mistress flipping on him in court, El Chapo's defense lawyers didn't take long to respond on Tuesday to the government's allegations.
According to the New York Daily News, El Chapo's lawyers spent a grand total of 30 minutes responding to the prosecution, calling only one witness and bringing only one document to the table. This was after prosecutors spent 11 weeks presenting their case.
Accused Mexican drug lord El Chapo faces a life sentence for drug trafficking charges. He denies the allegations against him, and his defense team claims that he wasn't really in charge of the operation. El Chapo is accused of smuggling cocaine, heroin, and more into the United States. Witnesses testifying against Guzman are also facing charges of their own, and the defense has maintained that they are trying to frame Guzman to better their own situations.
El Chapo defense attorney Jeffrey Lichtman repeated that argument on Tuesday, maintaining that his client was the scapegoat by associates in a conspiracy. The only witness Lichtman called was FBI agent John Roberts because of what was described as sloppy note-taking. Roberts was the only defense witness, while the government had produced 56 witnesses.
Roberts was grilled about statements he made about "Colombian narco" Jorge Cifuentes, particularly the misstatement that Cifuentes received a flash drive with "sensitive information on the Sinaloa Cartel," which was "provided to Cifuentes by a U.S. Navy officer." Lichtman also said Jorge's younger brother Alex Cifuentes didn't confirm how much debt El Chapo had accrued from 2007-2013.
After that, Lichtman rested his case.
As we alluded to in the opening, the government called El Chapo's mistress Lucero Guadalupe Sánchez López to the stand and she admitted that she moved drugs for her ex and the Sinaloa Cartel.
Sánchez, identified as a former legislator in Mexico, previously described how she came to be in a relationship with El Chapo and how she came to be arrested for running drugs on his behalf. She was arrested in San Diego back in 2017 because police suspected she was a drug smuggler and money launderer. Sánchez pleaded guilty in Oct. 2018 and faces 10 years to life in prison at the age of 29. She testified that she and El Chapo had a complicated relationship — one that included her being a drug runner for him.
She said there were times she moved 400 kilos of marijuana for the cartel. She also described El Chapo's infamous "naked" escape from custody through an underground tunnel.
El Chapo, it should be noted, is married to Emma Coronel Aispuro, and has been since 2007. Her presence in court remained a topic of conversation throughout the trial, and reportedly played with her hair when the "other woman" testified.
Closing arguments are expected to occur Wednesday or Thursday.
[Image via Alfredo Estrella/AFP/Getty Images]
Have a tip we should know? [email protected]