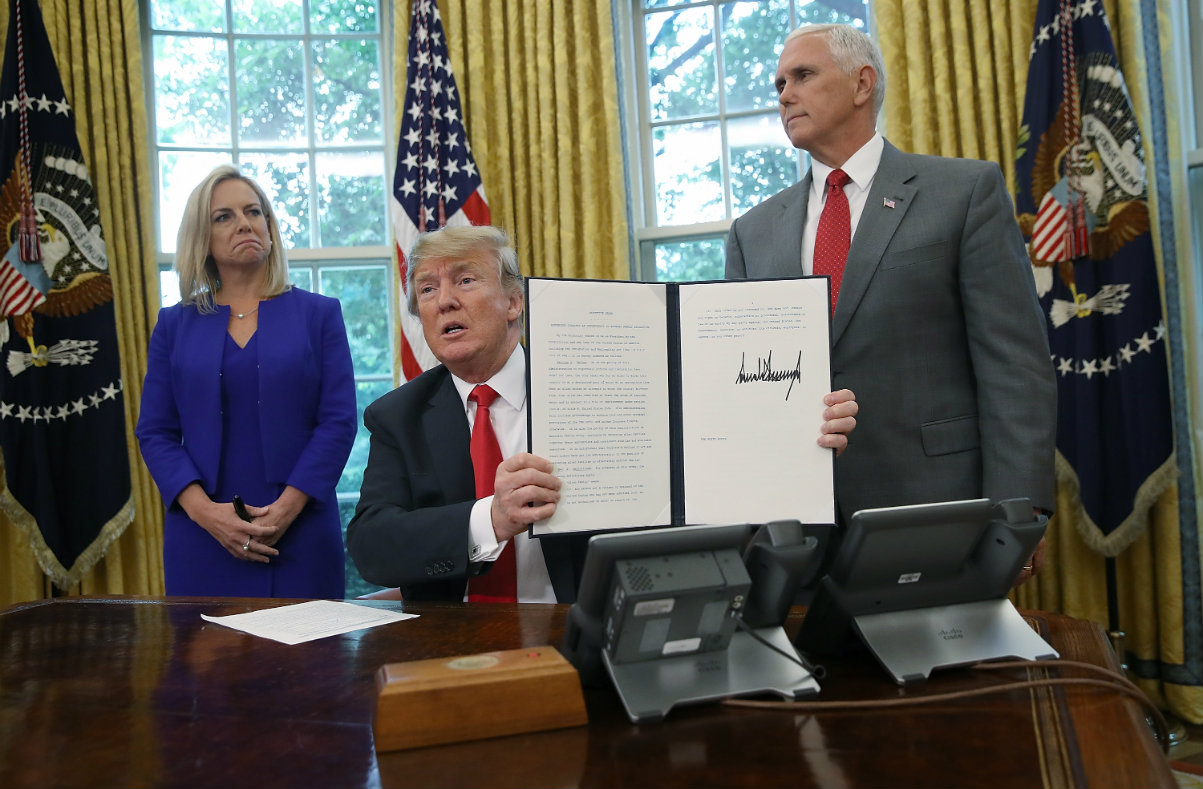 The Trump administration's "zero tolerance" policy on unauthorized border crossings has been getting a lot of attention because of family separation, but when convictions happen, the actual sentences tend to result in no extra jail time. For example, Honduran man Mariano Torres-Perdomo, who was split from his 6-year-old son, was sentenced to time served and a $10 fee in a Texas federal court. The finding was revealed in a newly released report from USA Today's Brad Heath. Outlet reporter Trevor Hughes, and Aaron Martinez of The El Paso Times were credited as contributors in the story.
Since May, the administration's explicit policy is that federal prosecutors would go after anyone accused of illegally crossing the border. The outlet took a look at 2,598 written judgments since the middle of that month. They found that 70 percent of resulted in guilty pleas. The sentence: time-served. 13 percent were put on unsupervised probation, and told not to illegally come back to the United States.
Even after being released, however, some returned to immigration detention facilities to discover that their children were already carried away. One source for the story was Marjorie Meyers, a federal public defender working with immigrant clients in southern Texas. She blasted the family separation policy.
"There is no reason for the government to do this other than to be cruel and send the message that you are not welcome," she told USA Today. "The thing that's just horrible is that they're using it to take the children."
In Torres-Perdomo's case, the judge insisted on knowing the 6-year-old son's whereabouts before handing down the sentence, but the prosecutor wasn't immediately sure. It took a day before the government said the child was 1,400 miles away at a detention facility in El Cajon, California.
Attorney General Jeff Sessions announced the "zero tolerance" policy in May, and highlighted the issue of family separation.
"If you are smuggling a child then we will prosecute you, and that child will be separated from you as required by law," Sessions said, according to NBC News. "If you don't like that, then don't smuggle children over our border." Chief of Staff John Kelly told NPR in an interview the goal was to deter people from coming to the United States without authorization.
On Wednesday, President Donald Trump signed an executive order ostensibly meant to address family separations, but put the onus on Congress to revise the guiding law. On paper, the EO would allow the government to detain parents and children together while the parents are prosecuted for the alleged unauthorized border crossing, but that's complicated by what's called the Flores settlement. This agreement makes the government release immigrant children within 20 days. On Thursday, the Department of Justice asked a California federal court to revise this, creating an exemption so Immigration and Customers Enforcement can detain minors with their parents, and an exemption for ICE "family residential facilities."
Critics say the EO could lead to other human rights issues.
This isn't over. Thousands of kids have been ripped from their parents with no plan to reunite them. And now @realdonaldtrump wants to create new detention camps for families. Separating kids is unacceptable – but indefinite imprisonment of families is still cruel & inhumane.

— Elizabeth Warren (@SenWarren) June 20, 2018
Officials initially said Thursday that there were no plans to reunite children already separated from parents. A spokesperson for the Administration for Children Families later said they were "awaiting further guidance."
BREAKING: The department of health and human services is walking back remarks made by a spokesman who earlier today "misspoke" saying nothing would be done immediately to reunite families that were separated after allegedly entering the US, illegally. pic.twitter.com/kH2cSnYxrg

— David Begnaud (@DavidBegnaud) June 21, 2018
The Administration of Children and Families neither responded to a Law&Crime request for comment Wednesday nor a follow-up on Thursday.
[Image via Win McNamee/Getty Images; left to right: Kirstjen Nielsen, Donald Trump, Mike Pence]
Have a tip we should know? [email protected]