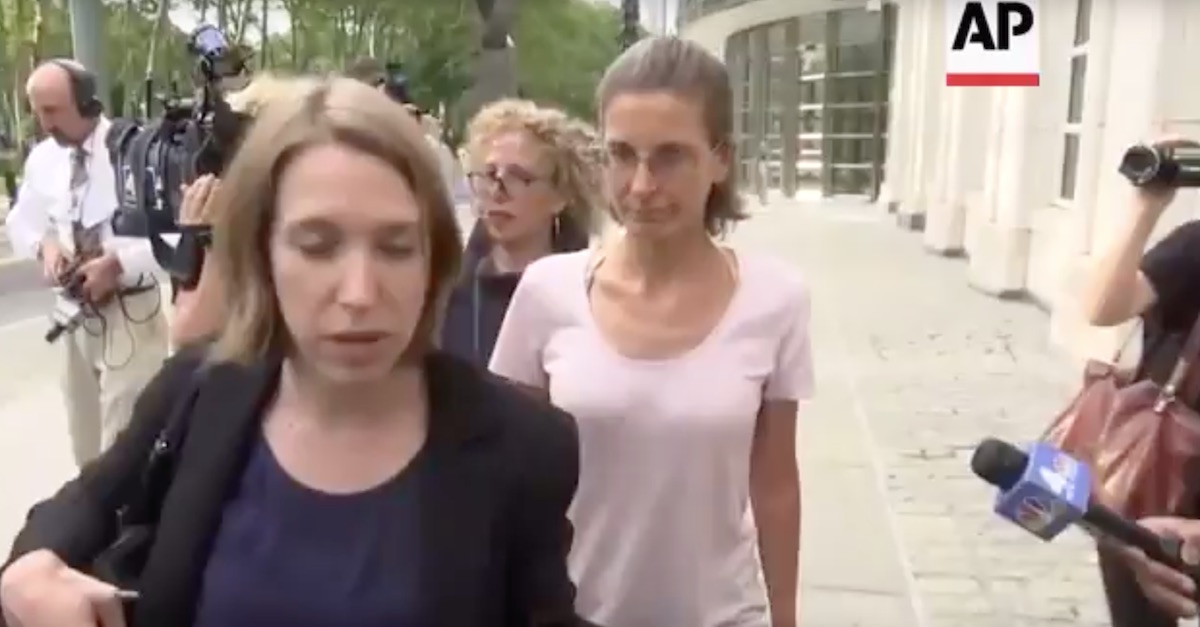 The Seagram's heiress who recently "fainted" in court when Michael Avenatti's name came up is deciding to plead guilty. The revelation came out in court documents on Friday that Clare Bronfman and Kathy Russell are planning on pleading guilty to charges in the NXIVM sex cult case.
Bronfman was charged for her alleged role in the racketeering conspiracy, while her fellow liquor heiress sister Sara Bronfman-Igtet has been accused of wrongdoing in a lawsuit. Bronfman-Igtet helped bail her sister out of jail at one point. Bail had been set at an astonishing $100 million.
NXIVM, founded by Keith Raniere, styled itself as a "self-improvement group," but prosecutors alleged that women were recruited to be sex slaves.
The investigation ensnared Clare Bronfman, Smallville actress Allison Mack, bookkeeper Kathy Russell, NXIVM co-founder Nancy Salzman and her daughter Lauren Salzman. They are all pleading guilty. In other words, everyone but the alleged cult leader appears resigned to the reality of prison time.
Mack allegedly recruited several women to be slaves in the organization where they were allegedly forced to have sex with Raniere and perform labor under threat of extortion. Mack recently admitted to receiving "labor and services" from two alleged female slaves she oversaw on Raniere's behalf. Additionally, Mack admitted to engaging in a conspiracy to commit the above federal crime. What she didn't plead guilty to were the sex trafficking and sex trafficking conspiracy charges in the indictment.
Like Mack, Bronfman isn't pleading guilty to sex offenses, which has a significant impact on sentencing. Bronfman pleaded guilty to harboring an illegal immigrant for financial gain and fraudulent use of identification, meaning the sentencing guidelines recommend 21-27 months behind bars.
Several former members of NXIVM, which publicly fashioned itself as a female empowerment program, came forward to allege stories of sexual initiation rituals and being forcibly branded with both Raniere's and Mack's initials while part of the latter's "slave pod."
"As alleged in the indictment, Allison Mack recruited women to join what was purported to be a female mentorship group that was, in fact, created and led by Keith Raniere," said U.S. Attorney for the Eastern District of New York Richard P. Donoghue in a press release announcing the actress' charges. "The victims were then exploited, both sexually and for their labor, to the defendants' benefit.
Isabella Martinez and Gabrielle Leal claimed in a lawsuit that Bronfman-Igtet was instrumental in "ensnar[ing]" them in the sex cult by convincing them to take Raniere's "Executive Success Program" (ESP) courses on the idea that they were "equivalent to 'practical MBA'" courses.
They said Bronfman-Igtet touted Raniere as "one of the World's Smartest Men" and a judo champion, among other things, while exposing them to a fraudulent scheme meant to scam students out of "millions of dollars." They allege that this money ($2,400 each for a five-day course) was then used to fund a criminal enterprise that allegedly included money laundering, sex trafficking, and kidnapping.
They also claimed Bronfman-Igtet didn't tell them that Raniere had been sued and fined in the past for running an "illegal multilevel marketing business." Clare Bronfman's defense attorney Susan Necheles said at the time that her client "did nothing wrong," and that "NXIVM was not a criminal enterprise but […] an organization that helped thousands of people."
[Image via YouTube screengrab]
Have a tip we should know? [email protected]