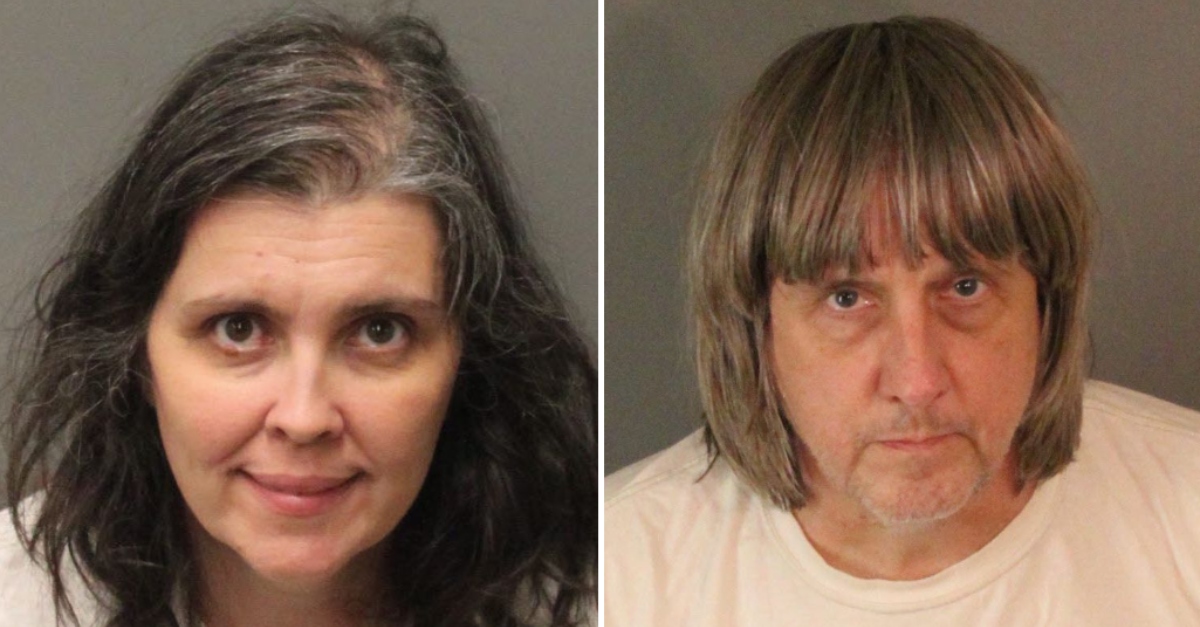 California couple Louise and David Turpin were sentenced to 25 years to life in prison for the abuse of 12 of their 13 children.
Turpins each sentenced to 25 years to life with credit for time served of 922 days.

— Brian Rokos (@Brian_Rokos) April 19, 2019
The couple pleaded guilty in the case last month. Deputies in Riverside, California say that their 17-year-old daughter escaped from their home in January 2018, and told authorities that she and her siblings were made to live in squalid conditions. She said that some of them were chained to their beds.
The judge said at the sentencing that the children asked they not be photographed or videotaped.
Female victim: "My parents took my whole life from me and now I'm trying to take it back."

— Brian Rokos (@Brian_Rokos) April 19, 2019
Brother: I love my parents and I have forgiven them for much of what they did.
Since January, I learned to ride a bike. Getting a bachelor's in software engineering, then will get a job as a software engineer and go to school part-time to get master's.

— Ryan Hagen (@rmhagen) April 19, 2019
One of the children, a son, said he forgave his parents. Yet even he didn't mince words about what they did.
"I cannot describe in words what we went through growing up," he said, as reported by Ryan Hagen of The Press Enterprise. "Sometimes I still have nightmares of things that happened such as my siblings being chained up and beaten."
He said he plans on becoming a software engineer.
Louise and David Turpin each pleaded guilty to a total of 14 felony charges: one count of torture, four counts of false imprisonment, six counts of cruelty to an adult dependent, and three counts of willful child cruelty, according to the Riverside County District Attorney's Office. There were no counts over the youngest child, who was 2 at the time of the escape.
Charges were adjusted during the sentencing.
There is a technical matter being sorted out on variations of the false imprisonment counts. Guilty pleas to two charges were withdrawn and then guilty pleas entered to similar charges. It will have no effect on the sentences, the judge said.

— Brian Rokos (@Brian_Rokos) April 19, 2019
[Mugshots via Riverside County Sheriff's Department]
Have a tip we should know? [email protected]