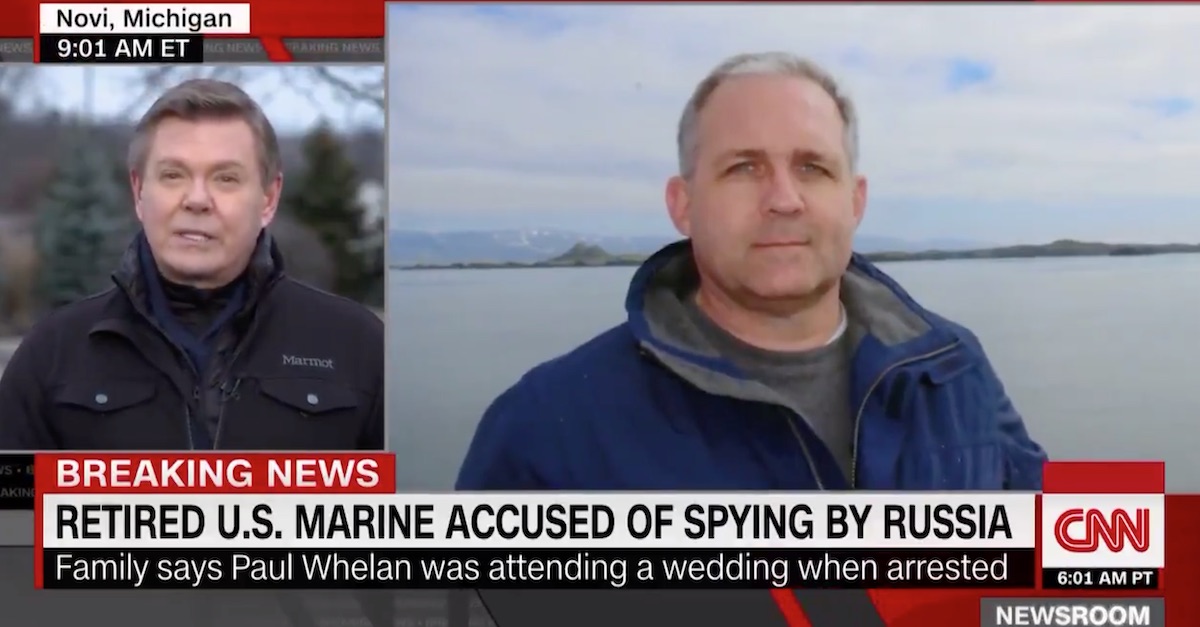 The Russian news agency Interfax reported on Thursday that retired U.S. Marine Paul Whelan has been formally charged with espionage, punishable by 10 to 20 years in prison.
There appear to be only a couple of options as to what is going on here: Whelan is a spy as Russia claims; Russia is retaliating against the U.S. for charging Russian national Maria Butina with conspiracy to act as a foreign agent; Russia, as Vladimir Putin critic Bill Browder suggested Wednesday, is attempting to use Whelan "as leverage" and a "hostage" to trade for Butina. In other words, it's possible that this is an extortion plot.
Some things aren't adding up at the moment.
The Washington Post noted that Whelan was discharged from the Marines in 2008 for bad conduct related to "several" larceny charges. Whelan, who lives in Michigan and works in corporate security for automotive components supplier BorgWarner, is also said to have a "basic command" of the Russian language. His family said he was in Moscow to attend a wedding. Meanwhile, former CIA official John Sipher has said that nothing in Whelan's background indicated that he is likely a spy.
"The way we run spy cases in Moscow is very, very carefully, very meticulous," he said. "We don't send in random Americans without diplomatic immunity to collect low-level stuff."
At the same time, Whelan's reported behavior makes it easier to see why Russia was watching him. Whelan, ex-military, had an account and was somewhat active on the Russian social media site Vkontakte, openly expressed his interest in Russia and reached out to Russian citizens connected to military agencies on social media. Per the New York Times:
Rosbalt quoted its security source as saying it was considered odd that Mr. Whelan did not use the social media site to try to meet women. Rather, he sought to ingratiate himself into the lives of his contacts on the site.

Most of those contacts seemed to be men with some sort of connection to academies run by the Russian Navy, the Ministry of Defense or the Civil Aviation Authority.
But the timing of the arrest is being called into question.
As Law&Crime reported before, Whelan's Dec. 28 arrest occurred eight days after Russian President Vladmir Putin commented on the U.S. arrest of Maria Butina, who recently pleaded guilty to conspiracy to act as a foreign agent.
Putin claimed that Butina was "forced" to admit her guilt and he distanced the Russian government from her, while also claiming he doesn't abide by the Code of Hammurabi.
"As for the fate of Russian nationals, we do care about them, including the fact that Butina is being forced to admit something over there. I cannot understand what she could possibly have admitted, since she was not following any instructions from the Russian Government or its agencies," he said. "This is a very sensitive area, and we will not act according to the laws of the Code of Hammurabi here. The law of retaliation states, 'An eye for an eye or a tooth for a tooth.' We need to act very cautiously here, and we need to be real."
Browder, who knows what Putin is capable of better than most everyone, commented that Whelan's arrest was a "hostage situation."
"In my opinion, based on what I know, this is a hostage situation. Paul Whelan I believe was taken as a leverage for Vladimir Putinin response to the Maria Butina prosecution in Washington," he told CNN. "And Vladimir Putin very much doesn't want her to talk to U.S. authorities. And he was in a very weak position and he needed to change that negotiating position, and so he looked for a hostage."
"And I believe that the Paul Whelan arrest fits right into that pattern of behavior," he added. "Putin is in a very bad position. There is a woman who has pleaded guilty to trying to disrupt the U.S. political process. That woman is connected to a man named [Aleksandr] Torshin. Torshin was a Russian government official who worked for Vladimir Putin. And so this the most direct evidence yet of that Vladimir Putin was trying to influence the outcome of the U.S. election and Putin doesn't want that to go to fruition."
"And so needs to try to create some type of counterpoint. And the best counterpoint is to take a former Marine who was visiting Russia for a wedding, grab him, accuse him of espionage and then create a negotiating position out of that," Browder said.
Putin, on the hand, claims Russia wouldn't consider making an eye for an eye move like this because the spy game is a "very sensitive area."
Whelan, accused of being caught while "carrying out an act of espionage," remains in custody of Russian authorities. He is expected to remain there until at least Feb. 28. Whelan's brother David Whelan released a statement on behalf of the family, saying that Paul, who served multiple tours in Iraq, was in Moscow to attend a wedding.
"We noticed that he was not in communication on the 28th, which was very much out of character for him even when he was traveling," the family said. "We learned of his arrest on Monday morning after his detention was picked up on newswires and have contacted Congressional representatives, the U.S. Embassy, and the State Department."
"We are deeply concerned for his safety and well-being. His innocence is undoubted and we trust that his rights will be respected,"  the statement ended.
David Whelan told CNN that it was a great relief to know his brother is still alive after losing contact with him.
"Knowing that he's not dead, it weirdly really helps," he said. "When we couldn't get ahold of him initially, we were worried, and we are still worried now, but at least we know he is alive."
[Image via CNN screengrab]
Have a tip we should know? [email protected]