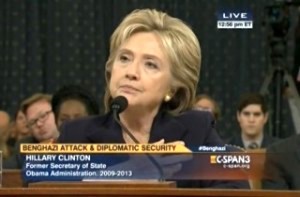 The Republican National Committee filed two lawsuits on Wednesday, seeking emails and records from Hillary Clinton and her top aides from during and after her term as Secretary of State, The Hill reports.
RNC chairman Reince Priebus stated that "The Obama administration has failed to comply with records requests in a timely manner as required by law," as the RNC had requested the documents last October, and again in December. The committee claims they never received responses to the requests, which were made under the Freedom of Information Act.
One of the suits demands text messages sent to and from Clinton, and emails to and from former chief of staff Cheryl Mills, former director of policy planning Jake Sullivan,  State Department Undersecretary for Management Patrick Kennedy, and former IT staffer Bryan Pagliano. Pagliano was recently granted immunity in the ongoing FBI investigation of Clinton's personal email server that she used while Secretary of State. Sullivan currently serves as a top adviser for Clinton's presidential campaign.
The second lawsuit demands communications that were mostly sent or received after Clinton left office, between State Department officials and Clinton's campaign.  ABC News reports that the RNC is looking to see if there was collusion between Clinton and government officials over her private email server scandal.
The RNC's complaint, filed in D.C. federal court, says that the actions of Clinton and her senior officials "are manifestly relevant to whether she is fit to lead this country."
[h/t The Hill, image via a katz/Shutterstock]
Have a tip we should know? [email protected]