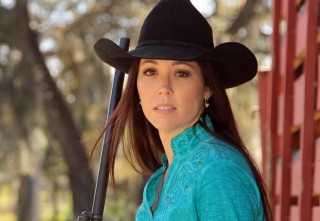 A gun enthusiast was shot in the back by her own child, with one of her own weapons, WSB-TV reports. Police say Jamie Gilt, 31, was driving a trailer down a Florida highway on Tuesday, when her 4-year-old son fired off a .45-caliber handgun through the back of her seat. Authorities found Gilt in the front seat with a bullet wound.
Gilt is known for gun-related posts on Twitter and Facebook bragged online that the "4-year-old gets jacked up to target shoot the .22," the day before the kid shot her.
Got to play with my new toy today! Time to clean it! pic.twitter.com/1lkYo8b3sh

— jamie gilt (@jamiegilt) January 24, 2015
The bullet passed through Gilt's torso, and she is expected to recover. The child is currently with family members, and deputies say the Department of Children and Families was notified of the incident.
[h/t WSB-TV, image via Facebook]
Have a tip we should know? [email protected]