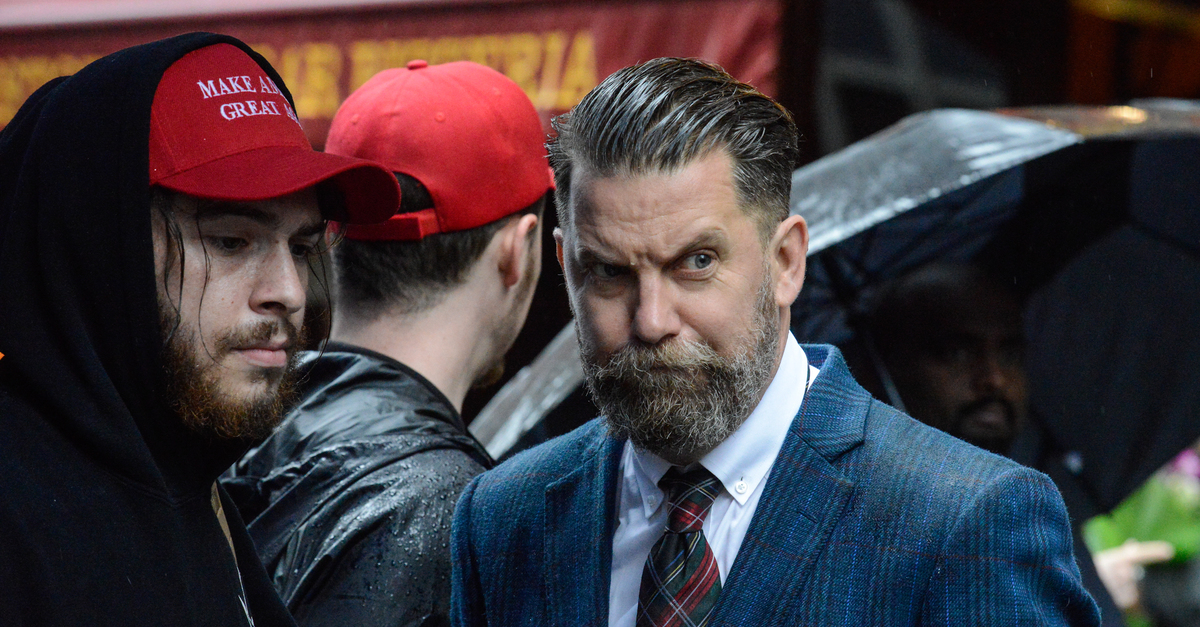 Proud Boys founder Gavin McInnes wants his neighbors to take down anti-hate yard signs that he believes target both him and the far-right street gang he conceived.
In a "Dear Neighbor" letter penned by McInnes, he writes:
Today I passed by your house, and the homes of many of our other neighbors in Larchmont, and was struck by the "Hate Has No Home Here" sign on your lawn. As an immigrant and the head of a multi-racial family that has made this special village our home recently, I wanted you to know just what your statement of principle and courage means to me – because I know more than a little bit about [sic] you're responding to.
The author then goes on to blast the media for reporting on his affiliation with the Proud Boys.
"You may have heard that I am the leader of a hate group called the Proud Boys," McInnes writes in the December 28 letter obtained by HuffPost and The Daily Beast. "Everything about that rumor is false."
Law&Crime has previously reported on the Proud Boys–a self-described "Western chauvinist" organization which violently advances a pro-Trump and far-right message. They are widely considered a segment of the alt-right and a "frat-like" nationalist gang. Law&Crime has previously described the group as "neo-fascist," a designation also in use by NBC News, the Associated Press and others.
Multiple Proud Boys members were charged with gang-related crimes in New York City following an October attack on several individuals after McInnes spoke at the Metropolitan Republican Club on the Upper East Side. McInnes eventually said he was leaving the organization but then later amended that to note that he only said he was leaving to show jurors there was "no head of operations."
After those attacks, a member of the Larchmont community–a wealthy suburb of New York City–suggested that neighbors place the anti-hate signs on their front lawns as a form of quiet protest against McInnes and the group he created. The signs quickly started appearing in Larchmont soon thereafter.
Now, McInnes is fed up with the signs and would like his neighbors to take them down.
"If you are liberal then you are, by definition, tolerant, and if you truly eschew hate, you know that loving your neighbor ― your actual neighbor ― is where tolerance begins," the letter reads. "I am writing on behalf of my family to ask you to reconsider whether the message of your lawn sign moves our world and our village in the direction of love at all, or whether it sends a very different message instead."
"Hate certainly has no place here, and like you I am committed to keeping it that way!" McInnes pleads.
Anonymous neighbors surveyed by HuffPost apparently aren't moved.
"If you're so tolerant, then put up a fucking sign in your yard, too, and stop being so narcissistic as to think that this is all about you," on resident told the outlet.
"We stand together as a community, and violence and hate are not tolerated here," another resident said. "Everyone is entitled to their opinions, but Gavin? What he's doing is a radical departure from discourse. He makes a conscious decision to incite violence and hate. We have our sign up because we want people to know this is a safe and friendly home."
McInnes also told The Daily Beast that he was able to convinced at least one neighbor–a pro-Trump business owner to take the sign down because they hadn't realized the "Hate Has No Home Here" message was also supported by the Democratic Party. "They had no idea it was a DNC motto," he said. "They took it down."
On Friday, McInnes used his podcast to address the signage issue–in decidedly less neighborly tones.
"If you have that sign on your lawn, you're a fucking retard," McInnes said.
[image via Stephanie Keith/Getty Images]
Have a tip we should know? [email protected]