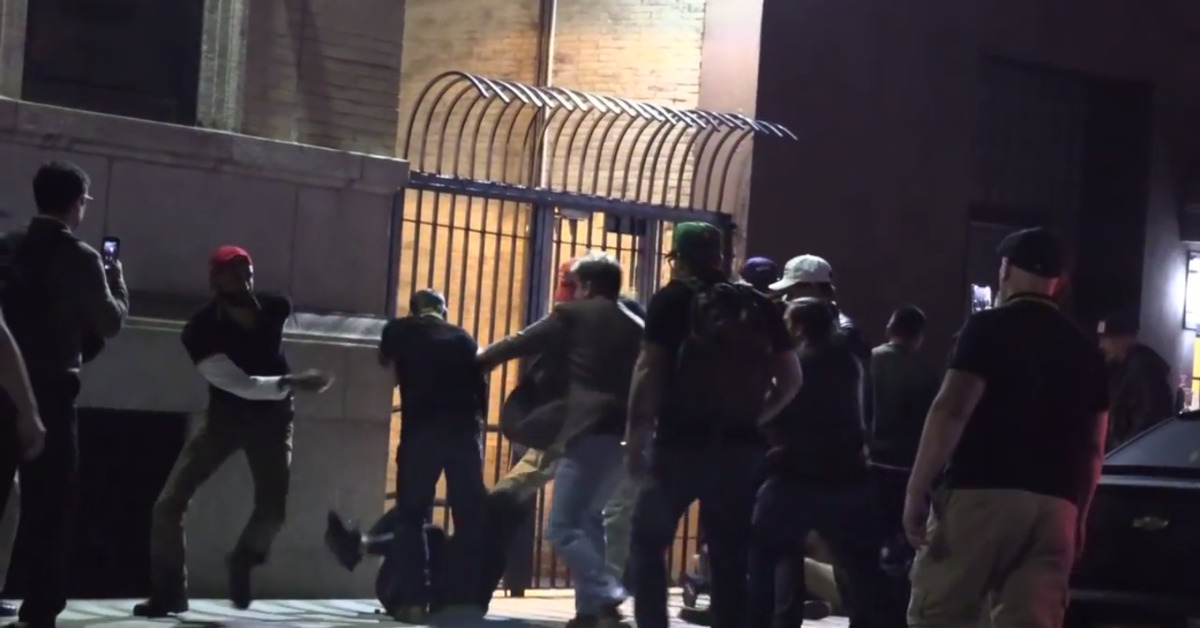 The leader of a far-right street gang thanked the New York City Police Department (NYPD) for their support just days after his group's members beat several New Yorkers with impunity in a series of shocking attacks recorded by multiple citizens and journalists in the area.
Gavin McInnes is the leader of the "Proud Boys" group, a self-described "Western chauvinist" gang that has engaged in street violence across the country.
The Proud Boys, formed in 2016, have long been fervently pro-Trump and are regarded as a far-right hate group, a segment of the alt-right and a "frat-like" nationalist gang. Law&Crime has previously described the group as "neo-fascist," a designation also in use by NBC News, the Associated Press and others.
McInnes is a Canadian citizen, alleged anti-Semite and one of the original founders of Vice Media. He hosts a podcast on the Westwood One radio network titled Get Off My Lawn. On the October 14 edition of his broadcast, McInnes praised the effusive show of support he and his group recently received from the NYPD:
I have a lot of support in the NYPD and I very much appreciate that, the boys in blue.
At another point in the segment, McInnes appeared to explain away the Proud Boys' violence due to vandals targeting the Metropolitan Republican Club earlier last week with crude "anarchy" symbolism.
"[Y]ou've set the atmosphere now. So you can't complain about violence after that, you know?" McInnes said. "Like if I go to Harlem and I put posters all over the streets saying, 'The [Ku Klux] Klan is coming, your days are numbered' and then you know, I'm seen in a Klansman uniform after this neighborhood watch thing, that's different than me just wearing a Klansman uniform. I mean, they're obviously both terrible. But when you set up this climate of fear, you have people that are going to be aggressive, you know?
On Friday night, October 12, dozens of Proud Boys ganged up on at least three isolated individuals who were walking the streets of Manhattan's wealthy Upper East Side following an event at the upper-crust Republican Party mainstay in which McInnes reenacted the assassination of a Japanese socialist using a samurai sword.
As his police escorts looked on, McInnes himself brandished the samurai sword on the street–a crime in New York City. Many commentators have pointed to the sword-brandishing incident as further evidence of the NYPD's apparent "deferential treatment" of the Proud Boys, their leader and ideology.
Multiple witnesses on Friday night said the NYPD also stood by and watched as the street violence unfolded. Video evidence appears to support this assertion.
In one of many videos recorded that night, members of the NYPD's Strategic Response Group can be seen arriving on scooters as several Proud Boys collectively attack a man laying in the fetal position.
Uniformed in black, Fred Perry polo shirts with yellow accoutrements, the Proud Boys kick and stomp a man on the pavement while screaming cries of "faggot" and "are you brave now, faggot." Another person is visibly punched directly in view of the NYPD. Yet another seemingly random individual is shoved into a car before crumpling to the ground.
Amidst and after the chaos, the scooter cops allow the Proud Boys to exit the scene without being questioned. As the gang members walk away bragging about their exploits–"I had one of their heads and I was just fucking smashing it into the pavement!"–the NYPD continues to do nothing.
Later, the Proud Boys stopped to take a picture while making a white power hand sign. This flaunted bit of preening added further fuel to allegations that the NYPD was looking out for the far-right group.
Imagine how many arrests would already have occurred, and how many NYPD and FBI "visits" would be happening right now, if a bunch of anarchists had posed for such a picture after someone broke a Starbucks window. We see you protecting the Proud Boys, NYPD https://t.co/ha6086m13W

— Gideon Orion Oliver (@gideonoliver) October 13, 2018
Queens District Attorney candidate and New York City Councilman Rory Lancman issued a statement calling out the NYPD for their apparent inaction during the beatings. He said:
It is revolting to see white supremacists commit a hate crime on the streets of New York City — in full view of the NYPD — and for none of them to be arrested. We have seen this in other cities, but it is shocking to see it here.
Following several similar outcries from elected officials in New York City and New York State–including Governor Andrew Cuomo—the NYPD called on the public to help identify the Proud Boys involved in the Friday night attacks.
[image via screengrab]
Follow Colin Kalmbacher on Twitter: @colinkalmbacher
Have a tip we should know? [email protected]