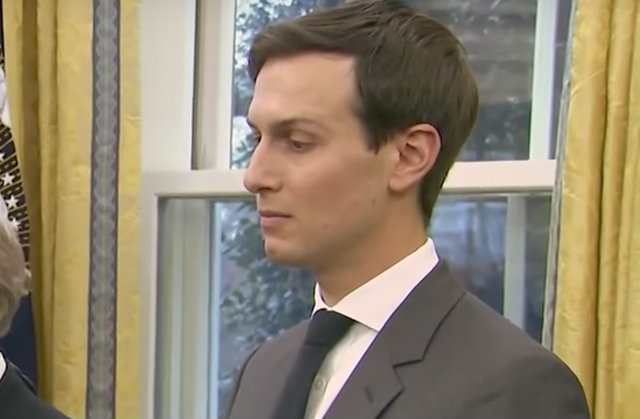 Sunday brings a new POLITICO report which says that the president's Senior Adviser and son-in-law Jared Kushner used a private email account to conduct official business. It has already led to further scrutiny, but optics aside, it's not that similar to Hillary Clinton's email scandal.
According to the POLITICO story, sources described "four people familiar with the correspondence" said that Kushner used the private account alongside his White House email. They claimed he started the private account in December for personal communication. But he has ended up exchanging messages with other senior officials and others about White House business: subjects like media coverage and planning events. The outlet said they'd verified about two dozen messages which involved senior officials like former chief of staff Reince Priebus, and former chief strategist Steve Bannon. Kushner's attorney Abbe Lowell told the outlet that it's all innocent.
"Mr. Kushner uses his White House email address to conduct White House business," he wrote in a statement Sunday. "Fewer than 100 emails from January through August were either sent to or returned by Mr. Kushner to colleagues in the White House from his personal email account. These usually forwarded news articles or political commentary and most often occurred when someone initiated the exchange by sending an email to his personal rather than his White House address."
He said that his client fulfilled federal record-keeping laws by forwarding the messages to the White House email account, though POLITICO couldn't verify. The outlet said it's part of a "larger pattern of Trump administration aides using personal email accounts for government business."
So what's the legal issue, assuming that we take Lowell at face value? Nothing "sexy," so the speak. We have somebody conducting government business on a private account, but making sure that every message is saved and put where it needs to be. And there's no indication that classified info was illegally placed in the private server. Is it problematic? Yes. Are we approaching anything legally actionable? No, probably not.
This story has been getting play on social media because of the apparent parallels between Kushner and Clinton, who got in trouble for putting work-related, classified emails on a private server, leading to months of debate over whether or not she committed a crime. It was a pretty big deal since Clinton was running for the presidency, and a likely winner. Clinton herself attributes that scandal as a reason that she lost. Nonetheless, then-candidate Donald Trump and surrogates like Senator Jeff Sessions used the story as constant ammo against her.
Hypocrisy aside, POLITICO's story is probably the most lukewarm news that could've come out about Kushner. It's not as a bad as him having to change his security clearance three times because he omitted required information about contacts with foreign nationals. It's not as bad as going to a June 2016 meeting with a Russian lawyer who promised Donald Trump Jr. dirt on Clinton amid Kremlin-backed cyberattacks on the Democratic National Committee and Clinton campaign chairman John Podesta. To sure, however, the private email account will give critics and others reasons to scrutinize Ivanka Trump's credibility-challenged husband. Here's a recent tweet from Citizens for Responsibility and Ethics in Washington, a nonprofit legal group.
BREAKING NEWS: Jared Kushner and others used private email accounts to conduct White House businesshttps://t.co/IynzzD3mDc

— Citizens for Ethics (@CREWcrew) September 24, 2017
You bet they are going to look into this. They have been on the Trump administration's ass about alleged violations of the Constitution's Emoluments Clause, definite violations of the Hatch Act, restricted access to White House and Mar-a-Lago visitor logs, and most important to the Kushner story, alleged violations of federal record-keeping laws. It would be news if they didn't care about this private email account. Expect them and others not to take Lowell at face value. Expect them to want to learn more about Kushner's email habits.
But until then? Until there's some specific allegation that Kushner broke the law with this account? This story falls way short of the Clinton's scandal's complications. For now, it's just something you bookmark in your browser for further reference.
[Screengrab via CNN]
This is an opinion piece. The views expressed in this article are those of just the author.