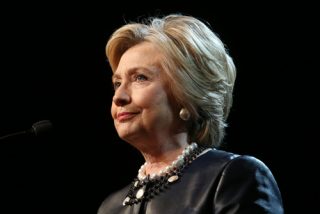 The new revelation that the FBI has apparently re-opened—or at the very least is "reviewing"—some emails as they relate to the Clinton private server investigation has sent ripples through the 2016 election. While this supposed "bombshell" news will likely hurt Hillary Clinton's narrowing lead in the race, I think there is little to no chance that the FBI will suddenly find, based on these new emails, that Clinton committed a crime.
What's even clearer is that the answer to this question will not come before November 8th. You have to remember the burden under the law that FBI Director James Comey articulated in his July news conference is an arduous one. The federal statutes, under the current interpretation, require first and foremost that prosecutors prove beyond a reasonable doubt that Clinton intentionally and/or willfully mishandled classified information. Extreme carelessness, as you will recall, is not enough to satisfy the law's burden. On top of that, according to a top official who spoke to Newsweek, there is no indication that the emails in question were withheld by Clinton during the original investigation. Furthermore, the official said that none of the new emails being examined were sent to or from Hillary Clinton.
So, even if investigators found classified emails in this new batch, it appears Clinton aide Huma Abedin would be under the microscope, not Clinton herself. And even then, investigators would have to prove Abedin intended to disclose the classified documents in order prove she committed a crime. I don't think that FBI will be able to meet that burden. These emails would have to be pretty damning to cause the FBI to take a serious second look at pressing charges against the Democratic presidential hopeful.
So first let's review the facts of what we know.
FBI Director James Comey sent a letter to Congress stating:
In connection with an unrelated case, the FBI has learned of the existence of emails that appear to be pertinent to the investigation. I am writing to inform you that the investigative team briefed me on this yesterday, and I agreed that the FBI should take appropriate investigative steps designed to allow investigators to review these emails to determine whether they contain classified information, as well as to assess their importance to our investigation.
We've later come to learn through various reports that the emails in question were discovered while the FBI was investigating close Clinton aide Huma Abedin's husband, Anthony Weiner, for his alleged sexting of an underage girl. A senior law enforcement official told The New York Times that tens of thousands of emails belonging to Abedin were on Weiner's laptop which was seized by the FBI. Some of those emails appear to have information "pertinent" to the investigation. Newsweek's Kurt Eichenwald followed up with a report that the FBI is not examining any emails that were specifically sent to or from Clinton, but rather they are examining Abedin's practice of sending herself emails from her state department account to her yahoo account and her account on Clinton's server. Abedin apparently did that in order to make it easier to print them out for Hillary Clinton (who liked to read them in a paper form).
In his letter, Comey said that investigators are taking a look to determine whether those emails contain classified information. But, remember, even if they determine that there were classified emails, that still doesn't mean Clinton committed a crime. For one, these emails come from the archives of Huma Abedin, not Hillary Clinton. And two, even if some are found to be classified, it doesn't look like they were sent to or received by Clinton if Eichenwald's news report is accurate. And third, suppose his report is wrong. Even if they were found to have been sent or received from Clinton, that doesn't mean she was aware the information was classified at the time, or that she sent them with "intent" to cause harm to U.S. national security.
During the year-long FBI investigation, agents did find classified emails on Clinton's private email server. "From the group of 30,000 e-mails returned to the State Department, 110 e-mails in 52 e-mail chains have been determined by the owning agency to contain classified information at the time they were sent or received," Comey said during a July 5th news conference.
However, Comey concluded that he could not recommend charges against Clinton because "no reasonable prosecutor would bring such a case." He further stated that in looking back at previous cases, all that were prosecuted involved some combination of "clearly intentional and willful mishandling of classified information." The same rules would apply to these new developments as well.
Now, I should note that Comey's assertion has sparked quite a bit of  legal controversy. That's because one of the laws involving mishandling of classified information is 18 U.S.C.A § 793(f) which is a felony. The law states, in part, that a person through "gross negligence" permits national defense material to be removed from its proper place of custody can be fined or imprisoned "not more than ten years." So opponents, clinging on to the "gross negligence" terminology, say Clinton should be guilty of a crime. After all, Comey himself said she was extremely careless. Unfortunately for them, that's not how courts have interpreted the law to work.
As LawNewz.com's Dan Abrams pointed out way back in January, reading this as a layperson one might think this could be an easier crime to prove. Not true. That's because, despite the "gross negligence" language in the law, courts have found that prosecutors must still prove some element of intent in order to convict.
In 1941, in the U.S. Supreme Court case Gornin v United States challenged whether the phrase "national defense" in this Espionage Law was too vague. The court found no, but the reason why is important:
"we find no uncertainty in this statute which deprives a person of the ability to predetermine whether a contemplated action is criminal under the provisions of this law. The obvious delimiting words in the statute are those requiring intent or reason to believe that the information to be obtained is to be used to the injury of the United States, or to the advantage of any foreign nation. This requires those prosecuted to have acted in bad faith."
As Abrams stated, "The Supreme Court clearly never envisioned a prosecution under the Espionage Act without 'intent' to injure the United States and in 'bad faith.'"
"The key element that distinguishes Secretary Clinton's email retention practices from Petraeus' sharing of classified information is that Petraeus knowingly engaged in unlawful conduct, and that was the basis of his criminal liability," former federal prosecutor Anne Tompkins (who also prosecuted David Petraeus) wrote in a USA Today editorial.
Based on this high burden, there is little chance Abedin or Clinton will be charged with mishandling classified information. To be fair, in his letter, Comey stated they are also reviewing these emails "to assess their importance to our investigation." So there is always a possibility that agents could find evidence that Abedin (and/or Clinton) tried to impede or delay the FBI's investigation. In that scenario, Comey could recommend charges against one or both of them for obstruction of justice.
In the end, it seems to me that Comey was just taking the necessary steps under the DOJ's rules which require him to inform Congress of new evidence. The timing is unfortunate because his decision is now be construed by many Democrats, including interim DNC Chair Donna Brazile, as political. I think Comey is stuck in a bit of Catch 22. For transparency reasons, he must disclose this new information because if it later comes out he didn't, the reputation of the FBI would be greatly tarnished. However, I don't think this new disclosure will change his recommendation. But, until we get the results of the review, hold on to your seats. Be prepared for lots of unfounded speculation and innuendo.
This is an opinion piece. The views reflected in this article are those of the author. 
[image via Shutterstock]
This is an opinion piece. The views expressed in this article are those of just the author.
Rachel Stockman - President / On Air Host