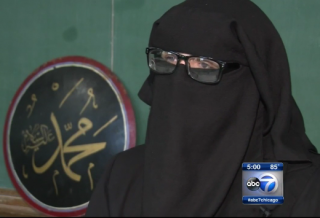 "Ma'am, you need to take that off your face or you need to leave my store." That's what a Muslim woman in Gary, Indiana said the manager of a Family Dollar store told her, KGO-TV reported.
Sarah Safi, an Indiana resident originally from Texas, entered the store on Monday to buy charcoal for a family barbecue. She wears a niqab and a hijab, traditional Muslim coverings, as part of her religious practice. "I might have made it 10 steps into the store," she said, and then the manager told her to remove her face covering or get out. At this point, Safi began recording the encounter on her phone.
Safi told the manager that she wears the garments for religious reasons. "I understand," she replied, "but you have to understand too this is a high-crime area and we get robbed a lot. You need to remove that from your face or remove yourself from the store." The manager said that if Safi didn't comply, she would call the cops, so Safi left.
In an interview, Safi told KGO-TV that she is used to stares, but not outright discrimination. "I was born here, raised here all my life, and I've never been to an establishment and been treated like this." She has covered her face for years. She said that she would like the store manager to apologize. "I would like to sit with her and speak to her about what I believe in, because maybe if she heard and really listened to what I believe, it would open her heart."
Sarah Schulte from KGO-TV reached out to multiple Family Dollar managers, including the employee who Safi dealt with, but none of them commented on the incident.
[Screengrab via KGO-TV]
Have a tip we should know? [email protected]