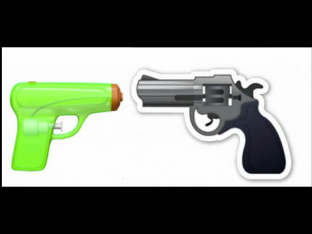 Apple is reportedly planning to introduce a number of new and redesigned emojis as part of a new operating system for iPads and iPhones.  The new and redesigned emojis will be implemented later this year, but one change in particular is already getting a lot of attention. Apple has apparently decided to replace its handgun/revolver emoji with a squirt gun.  What's more, many reports say the decision was made in response to calls from gun control advocacy groups.
WTSP reports a group called DisarmTheiPhone previously wrote an open letter to Apple CEO Tim Cook calling on him to remove the revolver emoji.
"We realized that many Americans unknowingly carry a gun with them every day. The one that was given to them without a background check: the gun emoji," the letter states.  "We ask that you stand with the American people and remove the gun emoji from all your products as a symbolic gesture to limit gun accessibility."
CNN Money reports New Yorkers Against Gun Violence, the group behind the DisarmTheiPhone campaign, spoke out Monday, calling the move a symbolic victory.
"Apple has stood up to the bullying tactics of the NRA and gun industry by showing that there are many more life-affirming ways to express oneself than with a gun," Leah Barrett, NYAGV's Executive Director, told CNN Money on Monday.
Shiv Putcha, an associate director at a market intelligence firm, told CNBC he also believes the move is a clear signal by Apple of where they stand on the issue of gun control.
"I see the green water pistol as Apple's innovative but telling way of announcing their position on a hot-button political issue," Putcha reportedly said.
Apple has yet to specifically comment on the decision to replace the gun emoji.  Instead, a company press release focused on other changes to the emojis such as the addition of more female characters.
Have a tip we should know? [email protected]