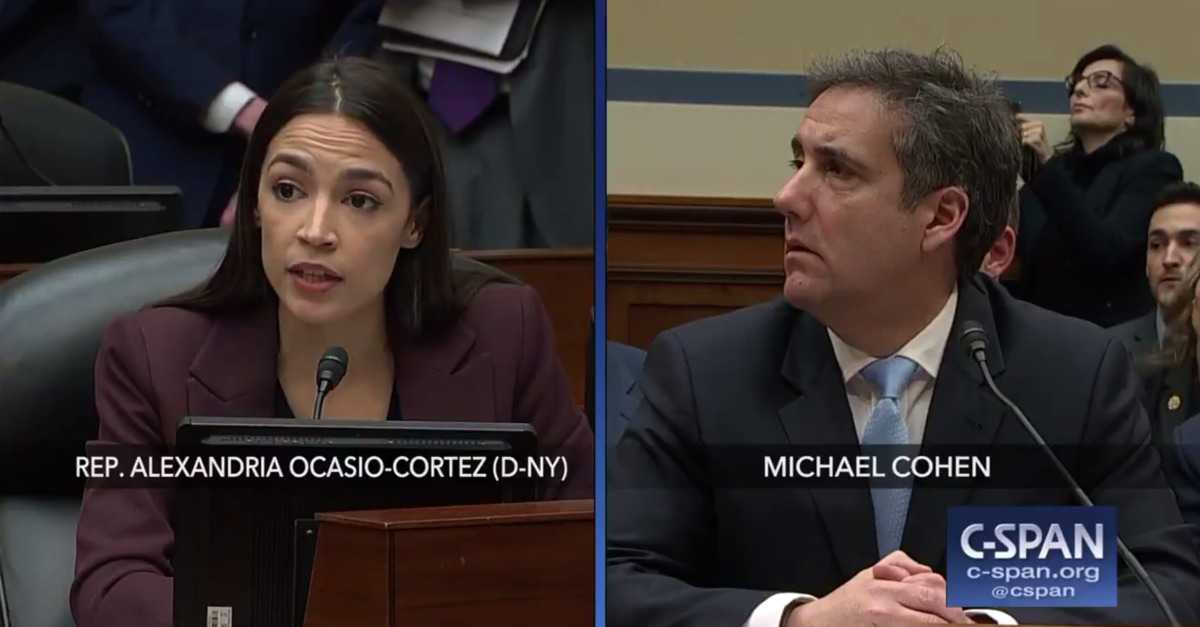 Here we are one week later, and the attention is shifting from AOC to Aon.
President Donald Trump's former attorney and fixer Michael Cohen did not bring the collusion goods political opponents might have hoped for last week, but he did say some potentially damaging things about his former boss' financial history at the Trump Organization. Exhibit A? The Trump Organization's longtime insurance broker has already been subpoenaed by regulators in New York and is agreeing to cooperate.
Rep. Alexandria Ocasio-Cortez (D-NY) distinguished herself with some sharp questioning last week, asking Cohen directly whether he knew if Trump "ever provide[d] inflated assets to an insurance company."
Not only did Cohen say "Yes," he also said Trump Organization CFO Allen Weisselberg and Trump Organization executives Ron Lieberman and Matthew Calamari knew about it. Cohen further said investigators should review Trump's financial statements and tax returns. "You'd find it at the Trump Org," he said. Not long after this exchange occurred, a white collar crime expert told Law&Crime that it appeared Cohen had implicated Trump in wire fraud.
"If he's inflating his assets to get a better insurance rate or whatever, he's using a scheme or artifice–which is the language of the statute–that's arguably using a scheme or artifice to defraud the insurance company," computer law expert and criminal defense attorney Tor Ekeland said.
Aon, the Trump Organization's longtime insurance broker, has confirmed that it has received a subpoena from New York's Department of Financial Services. Aon stated that it intends to comply.
Although Aon will comply, Aon spokeswoman Donna Mirandola told the Associated Press, "We do not comment on specific client matters."
Legal experts have long said the most dangerous legal liability for Trump lies in New York. The New York Attorney General and prosecutors in the Southern District of New York (SDNY) have been digging into the Trump Organization and longtime employees like Cohen and the aforementioned Weisselberg. Cohen pleaded guilty in the SDNY to tax evasion, bank fraud and campaign finance violations — violations he said Trump "directed." Those would be the Stormy Daniels and Karen McDougal hush payments. Weisselberg received an immunity deal as part of that investigation and may next be subpoenaed to testify before Congress. Whether he does testify remains to be seen.
Most notably, given what we mentioned on possible wire fraud, the subpoena seeks communications and records. Wire fraud is by definition done via a "communication," whether by phone, internet, fax, etc.
The communications sought go back 10 years, which would roughly overlap with Cohen's employment history with Trump.
[Image via CSPAN screengrab]
Have a tip we should know? [email protected]