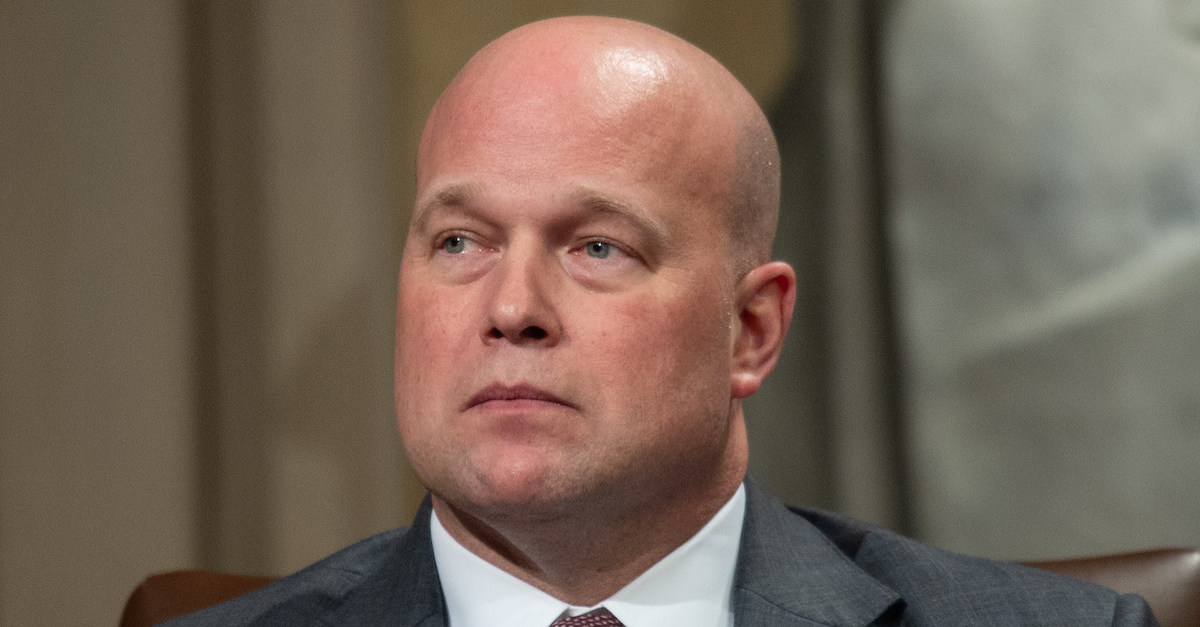 Former acting Attorney General Matt Whitaker went back to Capitol Hill on Wednesday after being offered an opportunity to "clarify" some things about his prior testimony, in which he said that he did not interfere "in any way" with special counsel Robert Mueller's work, that he didn't brief President Donald Trump about this investigation or others and that he did not air his own concerns.
Committee chairman Rep. Jerrold Nadler (D-N.Y.) said earlier Wednesday that he was "very skeptical" about Whitaker's answers on the subject of conversations with Trump and the White House on Mueller's investigation and other matters, like whether Trump asked him to fire a U.S. Attorney whose office prosecuted Michael Cohen on the campaign finance/hush payment issue. Whitaker expressed concerns about the Mueller probe going too far on CNN well before he was appointed acting Attorney General. This raised immediate concerns since his former boss and former U.S. Attorney General Jeff Sessions was a frequent target of the president for having recused himself from overseeing the Russia probe.
Well, Nadler came out of that hearing this evening and said that Whitaker had some different answers than he did before:
One, unlike in the hearing room, Mr. Whitaker did not deny that the president called him to discuss Michael Cohen, the Michael Cohen case, and personnel decisions in the southern district. Two, while he was acting attorney general, Mr. Whitaker was directly involved in conversations about whether to fire one or more U.S. attorneys. Three, while he was acting attorney general, Mr. Whitaker was involved in conversations about the scope of the Southern District of New York U.S. Attorney Berman's recusal, and whether the Southern District went too far in pursuing the campaign finance case in which the president was listed as Individual-1.
This goes back to a report by New York Times that Trump "lashed out" out at Whitaker after Cohen pleaded guilty to campaign finance violations and another report that Trump asked Whitaker if he could replace Trump-appointed Southern District of New York (SDNY) Geoffrey Berman so someone else could run the Cohen probe — an investigation that happens to have ensnared the Trump Organization and top executives like CFO Allen Weisselberg. AMI CEO David Pecker and Weisselberg both received immunity deals as part of the SDNY investigation into hush payments made to Stormy Daniels and Karen McDougal.
Berman, you may remember, recused himself from the probe after the FBI raided Cohen's home, office and hotel room in April 2018.
The president denied both reports.
On the report of a Berman replacement conversation with Whitaker, he said, "No, I don't know who gave you that."
He also tweeted these two attacks on the New York Times:
White House correspondent Maggie Haberman specifically said Trump's tweet claim that the Times never reached out before running the story was a "lie."
Here's an example of how Whitaker responded when questioned in February about conversations he had with the president on the Cohen investigation:
Rep. Ted Lieu (D-Calif.): Did you communicate to Donald Trump or the — or any senior White House advisers about investigations from the Southern District of New York concerning the Trump Organization, the Trump inaugural committee, Michael Cohen or the investigations that relate to Trump entities or potentially the President?

Whitaker: Congressman, I mentioned that — I said 'other investigations' in my opening statement. I really don't have anything further to add to that answer.

Lieu: And when you said other investigations, do you mean you communicated to the president about these investigations?

Whitaker: No, no I didn't – that's – that's …

Lieu: … that you – that you did not?

Whitaker: … that's not what I said in my opening statement. I'd just – I'll refer you back to my opening statement, I was very clear about that.
This was what Whitaker initially told the committee: "At no time has the White House asked for, nor have I provided, any promises or commitments concerning the special counsel's investigation or any other investigation."
Rep. Lieu asked him about communication, but Whitaker spoke about commitments and promises.
Whitaker dodged questions about having conversations with Trump on SDNY and Cohen.
Whitaker dodges @RepValDemings' question about if he talked to Trump about the ongoing SDNY investigation of the Trump Organization. He then dodges a question about if he talked to Trump about Michael Cohen. pic.twitter.com/Yz2kVSMGcR

— Aaron Rupar (@atrupar) February 8, 2019
"I am not going to discuss my private conversations with the president of the United States," he said. "No matter what the question is."
Nadler previously sent Whitaker a letter after the first public grilling to say his answers were "unsatisfactory, incomplete or contradicted by other evidence."
Whitaker is no longer at the DOJ. After he was replaced by current Attorney General William Barr, Whitaker had a brief stint in the Office of the Associate Attorney General. He then faded into the background somewhat unceremoniously.
Editor's note: this headline was updated for clarity after publication; a typo was also corrected (h/t Redditors FlintBlue and ZeusAmmon).
[Image via Nicholas Kamm/AFP/Getty Images]
Have a tip we should know? [email protected]