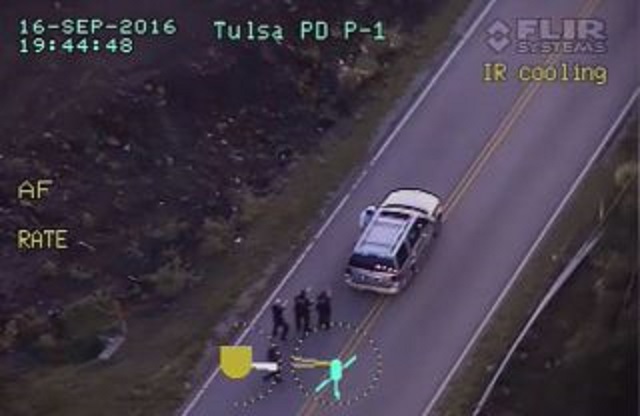 On September 16, 2016, Officer Betty Shelby of the Tulsa, Oklahoma Police Department shot and killed Terence Crutcher. Shelby, who is white, confronted Crutcher on the street, after a report that a vehicle was abandoned with the engine running. Video of the incident showed Crutcher, who is black, with his hands up, walking away from officers and then towards the side of the car, before Shelby fired her weapon. Shelby was unarmed. The shooting itself was not visible in the video that was released in the days after Crutcher's death.
Watch the video, courtesy of the New York Daily News (warning graphic content):

Shelby's attorneys claim that Crutcher disregarded the officer's instructions to stop walking away and to get on the ground, according to the Associated Press. Prosecutors insist that Shelby "reacted unreasonably by escalating the situation from a confrontation with Mr. Crutcher, who was not responding to verbal commands and was walking away from her with his hands help up, becoming emotionally involved to the point that she overreacted."
In September, then-Attorney General Loretta Lynch said the U.S Department of Justice was opening a civil rights investigation into Crutcher's death. "As always, the Justice Department will be thorough, impartial and exhaustive in reaching a determination about this incident," Lynch said at the time.
During Wednesday's opening statements, the defense said that Shelby was following her training and did nothing wrong. Prosecutor Kevin Grey said that police gave Shelby preferential treatment in allowing her to watch footage of the incident before giving any statement.
Shelby is currently on unpaid leave and is facing between four years and life in prison if convicted.
Have a tip we should know? [email protected]