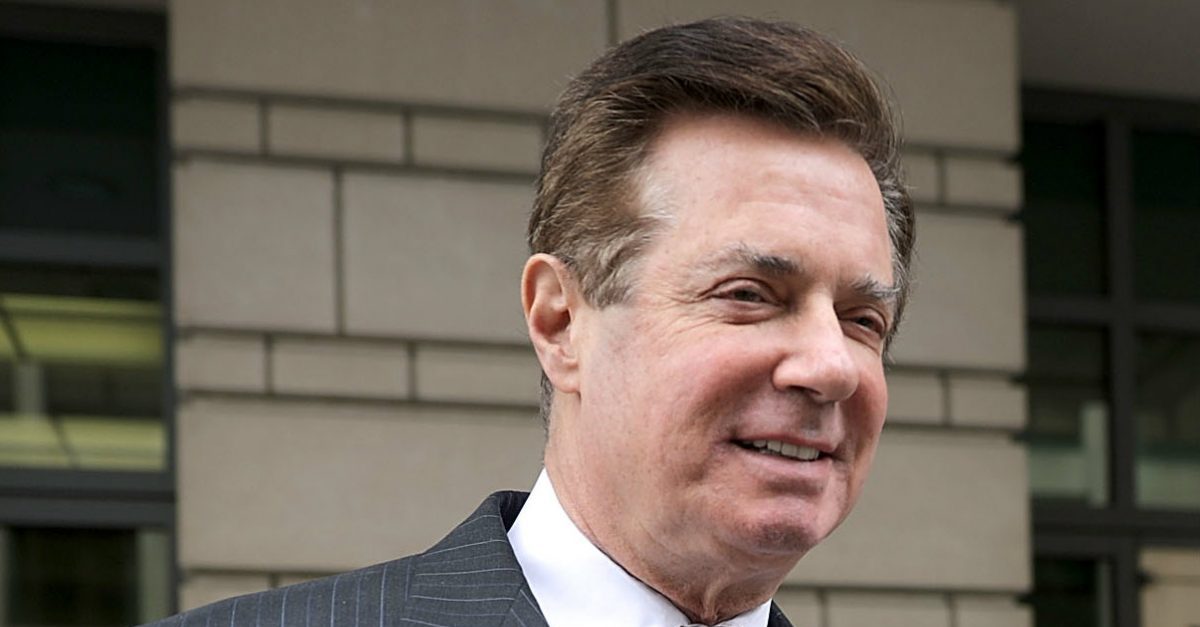 Paul Manafort filed a motion Monday night arguing that certain categories of information should not be allowed to be used as evidence in his upcoming money laundering trial in Washington, D.C. federal court. To support one of his arguments that irrelevant information could confuse the jury, the former Trump campaign manager pointed to how President Donald Trump himself appeared to be confused when he recently tweeted about the case.
In one of the motions in limine included in the court filing, Manafort said that any "evidence or arguments" having to do with the court's decision to keep him in jail until trial should be kept out. Manafort argued that just because a judge decided to revoke his pre-trial release, that "has not probative value" regarding whether he committed the offenses with which he's charged. Nevertheless, he argued, that information "poses a substantial danger of prejudice" because it could make jurors "likely to view Mr. Manafort as someone who is already in jail because he must have violated the law."
To back up this assumption that people might get confused, Manafort said in a footnote:
Indeed, even President Trump's response on Twitter to the news of Mr. Manafort's remand observed that Mr. Manafort had received a "tough sentence," incorrectly suggesting that Mr. Manafort had been sentenced for committing a crime.
This refers to when President Trump tweeted on June 15, 2018, "Wow, what a tough sentence for Paul Manafort[.]"
Wow, what a tough sentence for Paul Manafort, who has represented Ronald Reagan, Bob Dole and many other top political people and campaigns. Didn't know Manafort was the head of the Mob. What about Comey and Crooked Hillary and all of the others? Very unfair!

— Donald J. Trump (@realDonaldTrump) June 15, 2018
In addition to information regarding his being ordered to remain behind bars, Manafort also argued that anything having to do with his or the Trump campaign's alleged collusion with Russia. Earlier in the case, Manafort argued that the case against him was improper because it had nothing to do with alleged collusion, which was the purported focus of Special Counsel Robert Mueller's investigation. Likewise, he's now saying that because the case has nothing to do with collusion, nothing related to that should be allowed to be used at trial because it's irrelevant and could confuse the issues in the case.
Manafort also wants anything having to do with his case in Virginia federal court to be barred from the D.C. case. Both cases are related to Manafort's work in Ukraine, and the Virginia case is scheduled for trial in late July, while the D.C. case is set for September. The filing claims that the charges in each case are unrelated to each other, and "the scant probative value of that information [in the Virginia case] is substantially outweighed by the risk of undue prejudice to Mr. Manafort at trial."
Lastly, Manafort wants to keep out any information that was obtained from his attorney whom he used for advice regarding the Foreign Agents Registration Act due to attorney-client privilege. He notes that Mueller served a subpoena on the attorney to testify before the grand jury, and the lawyer refused, but the court sided with Mueller because of the crime-fraud exception to privilege.
[Image via Chip Somodevilla/Getty Images]
Have a tip we should know? [email protected]