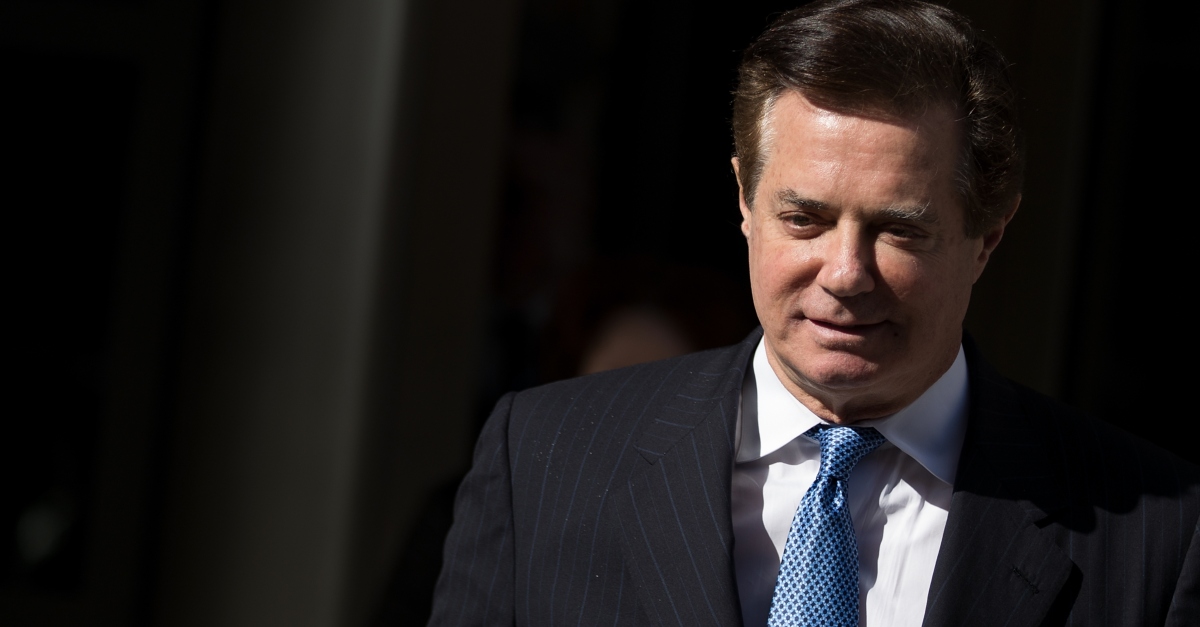 As media struggle to metabolize The Guardian's would-be bombshell regarding Paul Manafort's alleged visits with Julian Assange over the past five or six years–and as The Guardian itself apparently edits away some of the more controversial claims contained in their initial report–another Manafort meeting, one that definitely happened, has now come under the critical radar. What's perhaps more important, however, is the way in which this mystery meeting is currently being viewed by special counsel Robert Mueller.
In May 2017, President Donald Trump's former campaign chair met with Ecuador's recently elected President Lenín Moreno. This get together had been long-rumored and details were scarce-to-nil until eventually confirmed by Moreno himself in November 2017.
According to The Associated Press:
Moreno said the meeting in Quito involved Paul Manafort and representatives of an unidentified Chinese company who proposed to privatize the state-owned National Electric Corp. [Moreno] said the proposal was rejected because it would have violated Ecuador's constitution.
That was the official excuse given for the controversial meeting anyway.
Reports at the time were perforce scant on details because both Moreno and Manafort remained tight-lipped about their talks but there was a bit of color provided in some of the initial reporting.
"Manafort visited Ecuador using a phone registered under a false name and traveled on one of three U.S. passports he possesses before going to Mexico and China weeks later," the Associated Press wrote, citing court documents.
Manafort had recently been indicted on the same tax evasion and money laundering charges he would eventually be convicted of in Virginia and likely wasn't too keen on publicly discussing his foreign work or travels at the time. Moreno, for his part, specifically refused to discuss whether any additional issues were on the table during his meeting with Manafort.
The Associated Press also noted that Moreno was all-but forced to acknowledge the meeting with Manafort only after being called out and criticized by former Ecuadorean president Rafael Correa.
"It's very worrying that there should be a meeting with types like Manafort and that it should be kept hidden from the Ecuadorean people," Correa told The Associated Press.
Correa, who in 2012 championed the Wikileaks publisher's controversial Ecuadorian asylum claim and eventual citizenship application, later opined on the long-secretive Manafort-Moreno tête-à-tête.
During a November 2017 interview just after Moreno confirmed the meeting, Correa told The Associated Press, "If they keep it secret it's because they are hiding something."
Maybe so. And maybe that's what Robert Mueller thinks as well.
According to CNN and storied Watergate journalist Carl Bernstein, the special counsel's office has been heavily focused on the May 2017 meeting before it was confirmed to the press. Bernstein said:
According to sources familiar with aspects of the Mueller investigation: the special prosecutor has known for more than a year that Manafort visited the president of Ecuador in Ecuador; that the special prosecutor has been intensely interested–not just in that meeting–but that meeting in terms of what it might mean in regard to Manafort, Wikileaks and contacts with Assange.
The legendary newsman then reiterated his claim.
"There is no question–according to people familiar with some things that the special prosecutor's know and that has been confirmed by people who are close to Manafort–that he did indeed travel to Ecuador in the spring of 2017 to visit with the president," Bernstein said. "And that for more than a year, Mueller's investigators have been following up on leads emanating from that visit and what that visit portends and what it means and what kind of key it might be to understanding a relationship between Assange, Manafort, the campaign and Wikileaks–and whether or not such a relationship exists."
Manafort and Wikileaks have both denied such a relationship exists or that the two have ever met another.
Law&Crime reached out to Wikileaks and Manafort's attorney Kevin Downing for comment on this alleged relationship but no response was forthcoming at the time of publication.
Update: The Guardian has responded with a statement.
"This story relied on a number of sources. We put these allegations to both Paul Manafort and Julian Assange's representatives prior to publication. Neither responded to deny the visits taking place," a Guardian spokesperson told Law&Crime. "We have since updated the story to reflect their denials."
[image via Drew Angerer/Getty Images]
Follow Colin Kalmbacher on Twitter: @colinkalmbacher
Have a tip we should know? [email protected]