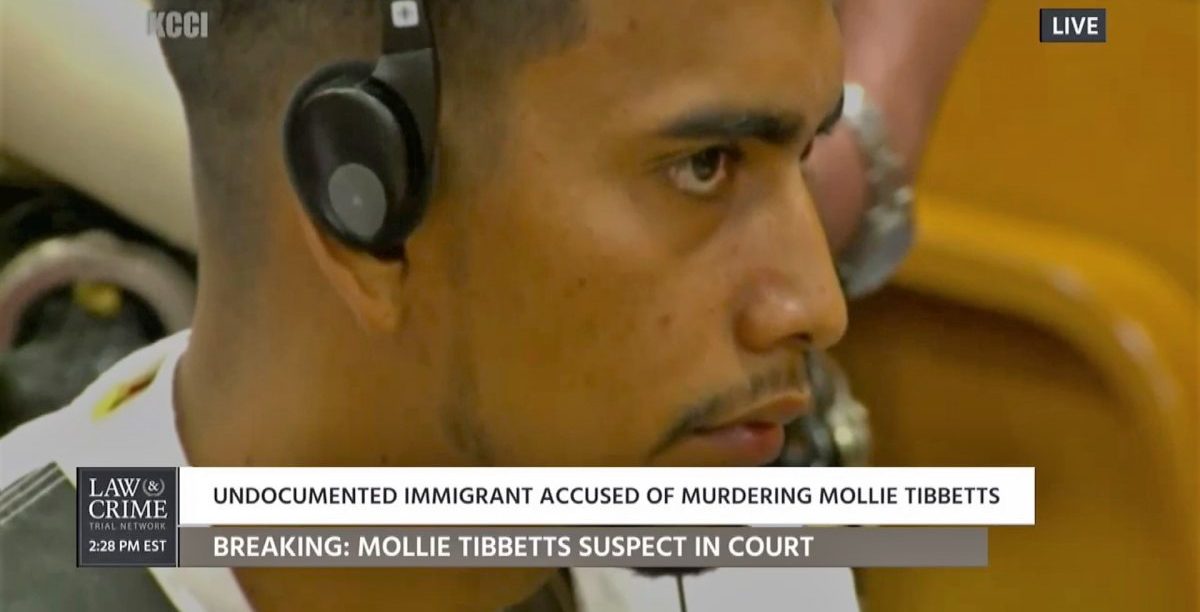 The lawyer representing the man accused of murdering Mollie Tibbetts has suggested his client was actually working in the U.S. legally.
Authorities said Tuesday that Cristhian Bahena Rivera, who has been charged with first-degree murder, is an undocumented immigrant. Rivera's defense is now disputing his immigration status, the Des Moines Register reported.
Allen Richards is taking issue with comments from elected officials like Iowa Gov. Kim Reynolds, who blamed a "broken immigration system" for Tibbetts' murder.
Richards went even further than criticizing Reynolds, however, by directly calling out President Donald Trump.
It is worth noting that he did so in a Trump-esque way.
"Sad and sorry Trump has weighed in on this matter in national media which will poison the entire possible pool of jury members," he said.
Richards claimed in Wednesday court documents that Rivera, who was employed on a farm by a prominent GOP family, was here legally and that the family said so.
"Craig Lang supports Cristhian's right to be in this jurisdiction and for the government to support any other idea of status publicly flies in the face of such statement," he said.
Not only did Craig Lang run for Iowa Secretary of Agriculture earlier this year, he's a past president of the Iowa Board of Regents and the Iowa Farm Bureau Federations.
Dane Lang confirmed to the Register that Rivera "was an employee in good standing" at the farm, after working there for four years. Lang said that Rivera "was vetted through the government's E-Verify system." In a statement, he said:
Yarrabee Farms follows all laws related to verifying employees are legal to work in the United States, and we regularly seek outside counsel to ensure we stay up-to-date on employment law matters. We keep records on all employees and have shared that information with authorities.

We appreciate the hard work of law enforcement officials. We will continue to cooperate with authorities as the investigation moves forward.
However, as the day wore on, the farm walked back that statement.
The Register later on Wednesday reported that farm officials clarified their original position. Farm officials eventually said that Rivera "gave them false information" and that the firm "did not use the E-Verify system," the Register said.
The defense assertion of Rivera's legalness — which in court documents is based on the farm's original — appears to be growing more tenuous as the case unfolds.
Law&Crime continues to follow the story.
Rivera is currently charged with first-degree murder for Tibbetts' death. He is also being held on an immigration detainer. Mollie Tibbetts was last seen alive on July 18. Her body was found on Tuesday, with Rivera's arrest announced soon after.
Aaron Keller contributed to this report.
Editor's note:  This piece has been updated after publication with additional information about the defenses' assertion regarding Rivera's immigration status.
Have a tip we should know? [email protected]