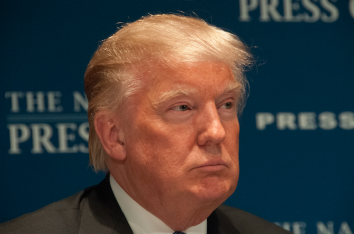 A newly filed lawsuit accuses the former North Carolina state director of the Donald Trump campaign of pulling a gun on a staffer.  The lawsuit further alleges that then-senior Trump campaign officials, including Corey Lewandowski, were aware of the incident but refused to intervene. WBTV reporter Nick Ochsner obtained a copy of the lawsuit and posted it online Thursday morning.
The lawsuit was filed by self-described "loyal Trump campaign staffer" Vincent Bordini. Both Donald J. Trump for President, Inc and Earl Phillip, the former North Carolina state director of the Trump campaign, are named as defendants.  According to WBTV, Phillips was removed from his position with the campaign last week.
#Breaking: lawsuit filed against @realDonaldTrump campaign alleging fmr NC campaign dir pulled gun on staffer #ncpol pic.twitter.com/LAdjKZaHM7

— Nick Ochsner (@NickOchsnerWBTV) August 11, 2016
The complaint accuses Phillip of pulling out a loaded .45 caliber pistol during a car ride in February 2016 and then jamming the barrel of the pistol into Bordini's kneecap.
"Vincent froze. Phillip's gun was loaded and the safety was off. A bump in the road would likely result in a bullet hole, and worse, in Vincent's knee," the complaint states.
Bordini claims that when he reported the incident to the Trump campaign, the regional director for western North Carolina informed him that Phillip had previously done the same thing to him.  Bordini also alleges that Stuart Jolly, the Trump campaign national field director, and then-Trump campaign manager Corey Lewandowski, did nothing when he informed them of the incident.
The complaint further alleges that Bordini believes Phillip pulled a gun on at least two additional campaign staffers.  He also accuses the campaign of retaliating against him for reporting the incident.
The Trump campaign, nor Phillip, have commented on the allegations, according to the WBTV report.
The lawsuit was filed in the Mecklenburg County Superior Court in North Carolina.
11:37 AM UPDATE:
Phillip reportedly spoke to WCCB in Charlotte this morning on the phone and also released the following statement:
"I have retained legal counsel. I have also stepped down from all affiliation with any and all organizations associated with Donald J. Trump for President to include the campaign and National Diversity Coalition for Trump."
[image via shutterstock]
Have a tip we should know? [email protected]