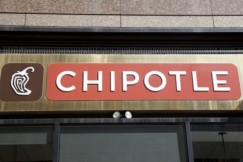 On Friday, a former Chipotle employee won her lawsuit against the company. She'd been fired after telling her supervisor she was pregnant. A Washington D.C. jury awarded the plaintiff, Doris Garcia Hernandez, $500,000 in punitive damages, and $50,000 in compensatory damages, according to a statement from her representation at The Washington Lawyers' Committee.
Hernandez started working at a D.C.-area Chipotle in May 2011. She said she was doing well, getting good work reviews. Then she got pregnant, and told her supervisor in late October 2011.
"She claimed that upon learning of her pregnancy, her supervisor changed his attitude towards her and instituted a new policy that forbade employees from using the bathroom and drinking water," the Washington Lawyers' Committee wrote. Hernandez later got fired for leaving work early to go to a prenatal appointment.
"This is an important victory for working women. No woman should be forced to choose between a prenatal appointment and her job," said Washington Lawyers' Committee Executive Director Jonathan Smith on Friday. "We are grateful to the jury for vindicating the rights of our client to be free from pregnancy discrimination and to send a message to other employers that this practice is intolerable."
A Chipotle spokesman told LawNewz.com that they were letting this slide.
"We maintain that Chipotle's actions in this case were legal and appropriate, but we are moving on from this issue," said Communications Director Chris Arnold. "We accept the court's decision and have no plans to appeal."
Update – August 11, 01:03 p.m.: Updated with a statement from Chipotle.
–
Follow Alberto Luperon on Twitter (@Alberto Luperon)
Have a tip we should know? [email protected]