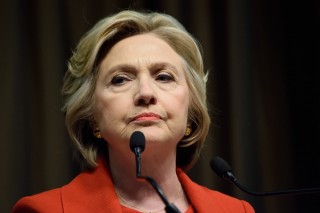 At a hearing on Monday for conservative watchdog Judicial Watch's lawsuit against the State Department involving Hillary Clinton's private email server, Judge Emmet Sullivan discussed the possibility of having Clinton herself testify at a deposition. According to Politico, Judge Sullivan is still deciding whether or not Clinton needs to testify, but he did bring up a possible alternative.
More than once, Sullivan brought up the possibility of having Clinton answer interrogatories or written questions, instead of having a deposition. The judge asked Clinton's attorney David Kendall, who appeared in court for the first time in this case, how long it would take for the former Secretary of State to answer questions of that nature if necessary. Kendall said it could take up to 30 days to respond.
But Kendall would prefer if his client did not have to answer any questions at all. When Judge Sullivan asked, "Why not answer one or two…questions under oath….and be done with it?" Kendall replied, "There's no legal basis for it." He also said that Clinton addressed issues regarding her private email server when she participated in the FBI's investigation of the matter. "The answer is not going to change," Kendall said.  However, Judge Sullivan noted that the record of Clinton's conversation with the FBI is not public record. "Neither the court nor the public knows what Mrs. Clinton told the FBI," the judge said.
Judge Sullivan did not make a determination on the issue yet, and reportedly told those in attendance not to read into anything he said at the hearing. He did say he will rule on the matter "as soon as I can."
Have a tip we should know? [email protected]