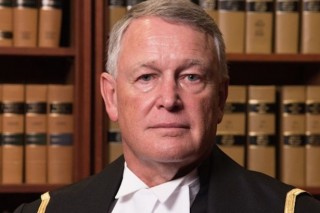 A judge who asked accusatory questions to a rape victim during a trial is now facing a disciplinary hearing, the Canadian Press reported. The Canadian Judicial Council will conduct an inquiry to determine whether or not Judge Robin Camp should remain on the bench after making comments that he has since acknowledged were insensitive.
A complaint against Camp, brought by four law professors, referred to a rape trial where a woman accused a man of raping her on top of a bathroom sink at a party. It says that Camp asked the woman questions including, "Why couldn't you just keep your knees together?" and "Why didn't you just sink your bottom down into the basin so he couldn't penetrate you?" The complaint also says that Camp referred to the woman as "the accused" multiple times during the trial, according to CBC News.
A notice of response filed on Camp's behalf said that the judge agrees that what he said was inappropriate, and that he will apologize at the hearing. The notice also said that Camp now has a greater understanding of the trauma that sexual assault survivors face, and he promises not to make similar comments again. He has gone through training and counseling with a superior court judge, psychologist, and sexual assault law expert.
The hearing is scheduled to take place this September in Calgary.
Have a tip we should know? [email protected]