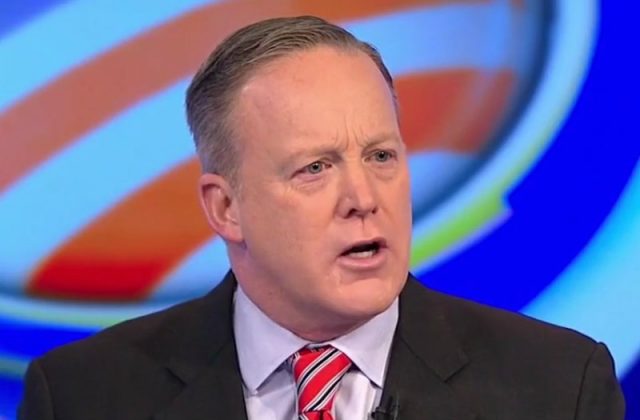 Judge Michael Vazquez granted the Democratic National Committee permission to depose Sean Spicer and search his emails as part of a case alleging that the Republican National Committee violated a decades-old consent decree governing RNC activities on Election Day, Politico reported.
At the time, Spicer wast the RNC's chief strategist, and a Politico report said he visited the fifth floor of Trump Tower, where Donald Trump's campaign based their poll-monitoring activities. GOP staff members had been told to keep away from that area.
The consent decree stems from the RNC's actions during the 1981 New Jersey gubernatorial election, where they were accused of engaging in intimidation tactics to suppress minority voting under the guise of "ballot security." The decree, which is supposed to expire on Friday, prohibited RNC employees from a number of activities, including campaigning within restricted polling areas, conducting ballot security activities at polling sites where the racial or ethnic makeup of the districts were an issue, and interrogating prospective voters as to their qualifications to vote.
"It would seem as though there's a lot unanswered by the article and a deposition of Mr. Spicer would be able to address those clearly," Judge Vazquez said, adding that he would allow a "targeted" search of Spicer's emails from Election Day that pertained to his visit.
Despite this, Judge Vazquez said that he will not hold a hearing on whether the RNC violated the decree. "As far as what's before this court, you've presented me with no evidence of actual voter suppression efforts on the day of the election, much less tying it to the RNC." The judge also said that he was "not going to be inclined" to grant other depositions or discovery without further evidence to support a request.
As for the consent decree itself and its Friday end date, Judge Vazquez wouldn't say anything definitive just yet.
"I'm going to reserve on the drop dead date of the consent decree and we'll go from there," the judge said.
[Image via ABC screengrab]
Have a tip we should know? [email protected]