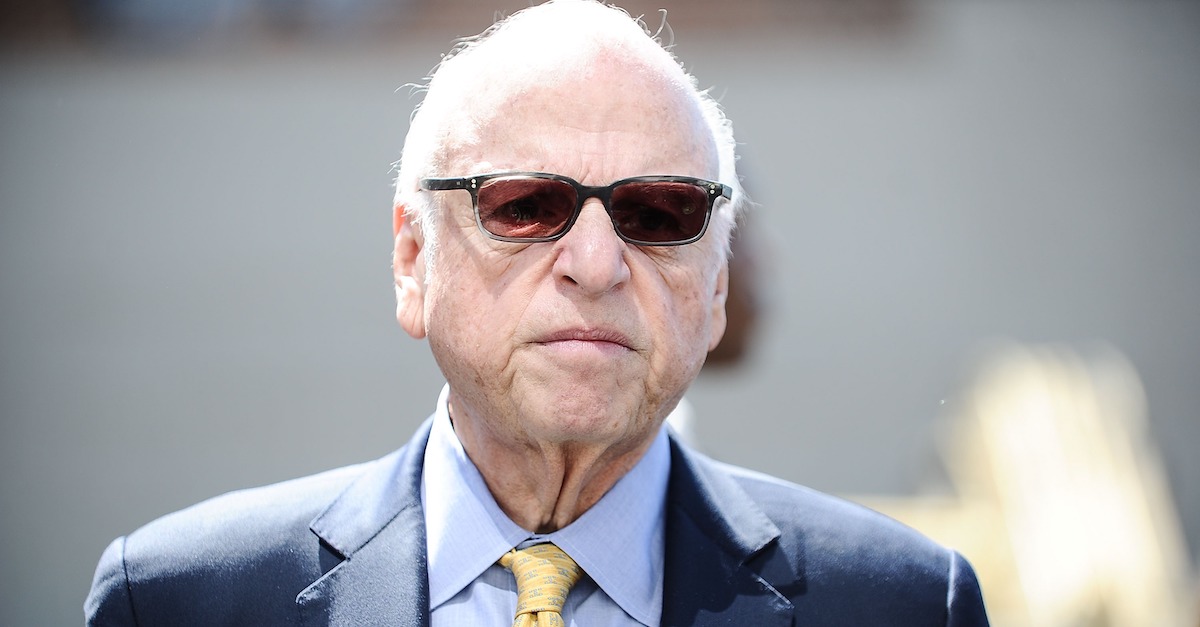 Much was made of Donald Trump Jr.'s phone calls with blocked numbers before and after the 2016 Trump Tower meeting with a Russian lawyer, particularly because it was thought that those phone calls may have been with then-candidate Donald Trump. It was revealed on Thursday that those phone calls actually involved NASCAR CEO Brian France and real estate developer/long-time Trump ally Howard Lorber, leading the president to declare that the meeting with Russians for "dirt" on Hillary Clinton was "innocent" after all.
Questions are swirling about Lorber now that his "deep Russia ties" and past exploration of a Moscow Trump Tower with Trump are being examined more closely. This history about a Moscow Trump Tower is notable when you consider that Special Counsel Robert Mueller has gotten a guilty plea out of ex-Trump attorney Michael Cohen for lying to Congress about a more recent iteration of the "Moscow Project" for Trump's benefit — the benefit being that the president's statements about his business dealings with Russia would not be contradicted and harm his campaign for president.
Lorber and Trump, more than 20 years ago, started exploring a "super-luxury residential tower" in Moscow, and visited the Russian capital together.
Per the New York Times:
Mr. Trump's relationship with Mr. Lorber demonstrates that despite the president's claims that he has no ties to Russia, he has sought to do business there for at least three decades. The chief executive of the holding company Vector Group, Mr. Lorber was an early supporter of Mr. Trump, served as an economic adviser to the campaign and accompanied Mr. Trump to Moscow in November 1996. On that trip, they worked on a plan to create a large building and made a trip to a company tied to Mr. Lober's holding company, which held stakes in cigarette companies.
Trump was quite forthcoming about his business prospects back in a 1996 interview with the Moscow Times, the Washington Post noted.
"We're looking at building a super-luxury residential tower … which I think Moscow desperately wants and needs," Trump was quoted. Lorber's business partner, identified as Ben LeBow, hailed Trump as the "preeminent marketeer and developer in the world."
"We want the best for Moscow — and Donald's it," he added.
Lorber has not commented.
Other Moscow connections to Trump and Lorber that have caught attention since the blocked number news dropped was a 1997 profile of Trump in the New Yorker. In it, a Trump discussion with a now-deceased Lieutenant in the Russian military and politician, Aleksandr Ivanovich Lebed. That discussion happened in Trump's office.
Trump is said to have introduced Lebed to Lorber, saying "Howard has major investments in Russia." Trump then said, "We are actually looking at something in Moscow right now, and it would be skyscrapers and hotels, not casinos. Only quality stuff. But thank you for defending me. I'll soon be going again to Moscow. We're looking at the Moskva Hotel. We're also looking at the Rossiya. That's a very big project; I think it's the largest hotel in the world. And we're working with the local government, the mayor of Moscow and the mayor's people. So far, they've been very responsive."
Lebed said that he Trump gave him hope for bringing the U.S. and Russia closer together.
"I think you are a litmus testing paper. You are at the end of the edge. If Trump goes to Moscow, I think America will follow. So I consider these projects of yours to be very important," he said. "And I'd like to help you as best I can in putting your projects into life."
"And I deem you to be a very serious person. That's why I'm meeting you," he added. Trump was flattered and gave Lebed a copy of The Art of the Deal.
"Well, that's very nice. Thank you very much. I have something for you," he said. "This is a little token of my respect. I hope you like it. This is a book called 'The Art of the Deal,' which a lot of people have read. And if you read this book you'll know the art of the deal better than I do."
Later on in the 1997 interview, Rudy Giuliani of all people was mentioned. A New York Times reporter named Michael Gordon wanted to know if it was true that Trump and a Russian artist identified as Zurab Tsereteli, talked about building a statue of Christopher Columbus on the Hudson River that was taller than the Statue of Liberty.
Trump said he believed that the statue had "already been made" and that the it was going to be donated by the Russian government:
According to Trump, the head had arrived in America, the rest of the body was still in Moscow, and the whole thing was being donated by the Russian government. "The mayor of Moscow has written a letter to Rudy Giuliani stating that they would like to make a gift of this great work by Zurab. It would be my honor if we could work it out with the City of New York. I am absolutely favorably disposed toward it. Zurab is a very unusual guy. This man is major and legit."
The 2016 Trump Tower meeting occurred on June 9, 2016. Cohen said that he lied when he said Moscow Project negotiations ended in January 2016. Instead, he said, talks continued into June 2016, just months before the election. These were talks, incidentally, that Russian President Vladimir Putin potentially stood to benefit from. The 2016 Trump Tower meeting, it's also worth mentioning, involved the Agalarov family, which was identified by Trump Jr. in his congressional testimony as being involved in a separate Moscow Project discussion. Trump Jr. has also said that the meeting was "mainly about adoptions."
[Image via Daniel Zuchnik/Getty Images for 160 Leroy]
Have a tip we should know? [email protected]