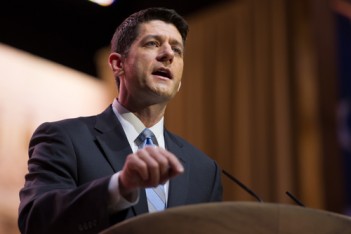 One day after President Obama revealed his plan to close the U.S. military detention camp at Guantanamo Bay, Cuba, House Speaker Paul Ryan told reporters on Wednesday Republicans are preparing a legal challenge to prevent the president from closing the facility and transferring the remaining detainees to the United States.
"These detainees cannot come to American soil," Ryan said at a news conference on Wednesday morning.
Obama has struggled to fulfill his 2008 campaign promise to close GITMO.  Under his plan announced yesterday, approximately 35 of the 91 remaining detainees would be transferred to overseas countries, while the remaining 56 detainees would go through an expedited review process to determine whether they could also be transferred to other countries.  After the completion of the review process, any remaining detainees would be transferred to a yet to be determined prison facility in the United States.
According to the Associated Press, Ryan noted that Obama's proposal would violate a bill passed by Congress and signed into law by the president in November 2015 that bans the transfer of GITMO detainees to U.S. soil.  Ryan also told reporters that he has the votes in Congress to block Obama's proposal and to override any veto.
"He can't do it because the law is really clear," Ryan told reporters.  "If the president proceeds with knowingly breaking the law … he will be met with fierce bipartisan opposition here in Congress and we are taking all legal preparations necessary to meet with that resistance."
Speaker Ryan is not alone in his concern that Obama might be willing to go forward with his plan, in spite of the law prohibiting the transfer of detainees to the United States.
When asked about this issue during an interview on Fox News yesterday, Rep. Darrell Issa (R-CA) said, "The fact is, it is very hard to stop a president from doing something if he is willing to ignore the law and his oath."  Issa went on to explain that should Obama proceed with his plan, Congress's only recourse would be to seek redress in federal court.
Furthermore, on Tuesday Rep. Jeff Duncan (R-SC) introduced legislation giving the House of Representatives authority to file a lawsuit against the Obama administration should they attempt to violate the ban on transferring detainees to the United States.
In the upper chamber, Sen. John McCain, chairman of the Senate Armed Services Committee, told the Associated Press that GOP senators would join House Republicans on any legal challenge.
Earlier this month, in a move that indicates this is more than mere political posturing, the House Republican leadership retained the services of the high-powered D.C. law firm Jones Day to advise Speaker Ryan "regarding legal issues raised by, including possible litigation concerning, the possible transfer to the United States or elsewhere of individuals currently detained at the United States Naval Station, Guantanamo Bay, Cuba."
While Speaker Ryan did not offer any specifics on what legal path the House of Representatives might pursue, the most likely scenario would seem to be for the House to file a lawsuit in federal court arguing the Obama administration would have to draw funds from the Treasury for the closure of GITMO without a valid appropriation in violation of Article I of the U.S. Constitution.
Democrats, naturally, criticized Speaker Ryan's remarks in a statement issued by House Minority Leader Nancy Pelosi's spokesman, Drew Hammil.
"Republicans must stop playing politics with our national security and stop awarding no-bid, taxpayer-funded contracts to politically connected Washington lawyers to the tune of hundreds of dollars per hour," Hammil's statement read.
[image via shutterstock]
Have a tip we should know? [email protected]