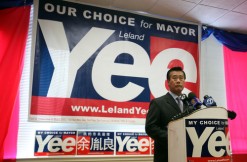 Former California State Senator Leland Yee was sentenced to five years in prison by a federal district judge on Tuesday for his role in a complex case of political corruption. He was also fined $20,000.
The 67-year-old pleaded guilty last July to racketeering charges in connection with two criminal enterprises related to soliciting bribes and smuggling guns. Lee also admitted to receiving more than $40,000 in bribes for political favors. Specifically, he promised an undercover FBI agent quid pro quo favors in return for campaign contributions.
While prosecutors sought eight years for the San Francisco Democrat, his defense team was able to work out a deal closer to their initial goal of four years and three months citing the poor health of Lee's wife and his several years of public service.
U.S. District Judge Charles Breyer, who sentenced Yee, explicitly remarked on the former Senator's betrayal of public trust as an elected official: "I don't feel I can be lenient. The crimes you have committed were essentially an attack on a democratic institution."
A repentent Lee responded to Breyer, "I have taken full responsibility for my actions. I have accepted and understand the crimes I have committed."
Prior to his March 2014 arrest, Yee, an advocate of gun control, represented the western half of San Francisco and the majority of San Mateo County.
[h/t LATimes]
Have a tip we should know? [email protected]