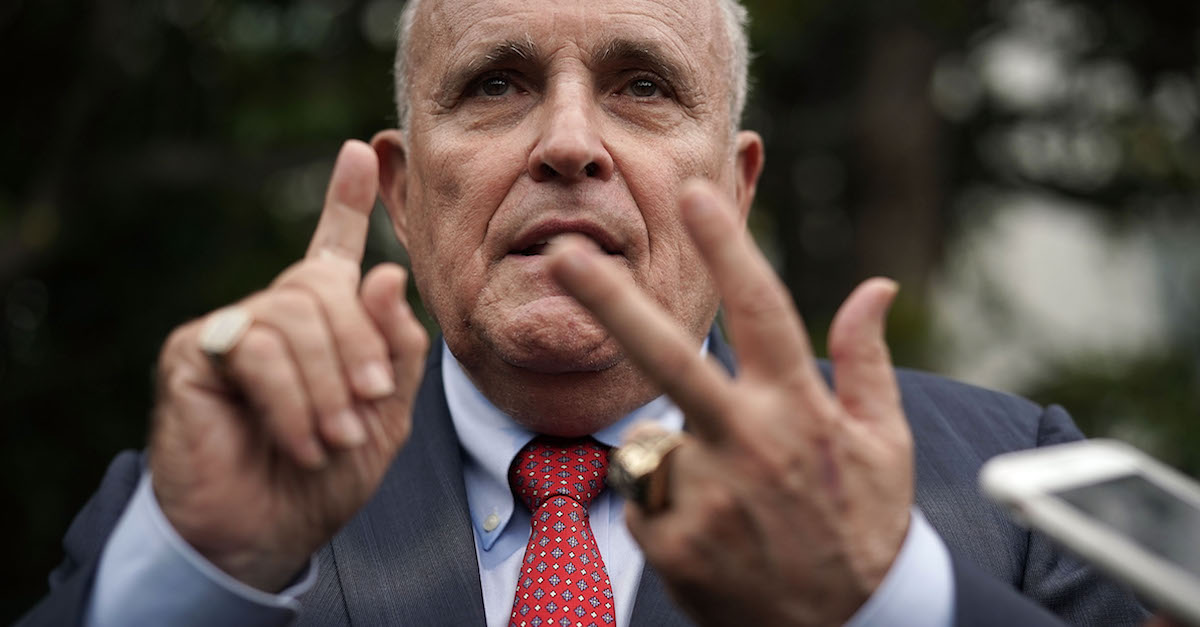 President Donald Trump's attorney Rudy Giuliani once again pushed back the decision date for a meeting between the president and special counsel Robert Mueller. According to at least one expert, the real reason this is happening might just be to delay movement on the investigation until after the midterms.
The Washington Post reported on Tuesday that Giuliani said a decision on a meeting will come mid- to late July, citing an investigation of the implications of the recently released Inspector General (IG) report. This is an odd justification since the IG report in no way addressed Trump, despite Trump's claim that it "exonerated" him of any obstruction or collusion.
The report was about the FBI's decision-making regarding the investigation of Hillary Clinton's emails.
"I'm advising him to stay put, to hold our horses a little. I doubt August, and I doubt too far into July. But I do think things have changed," Giuliani said. "I'd like to get it done, our part over to them by July 4th."
He then referred to the IG report as a possible reason to stay put.
Giuliani also said that if Mueller issues a subpoena it could backfire.
"We just don't know [if they'll do that]," he said. "They have an argument for it and against it. It could blow up in their face and they'd have to just file a report. At this point, they're not pressing us."
Former federal prosecutor Renato Mariotti speculated the real reason this might be happening is that it's part of effort to delay until after the midterm elections.
Previously, Giuliani pushed back a decision on this matter because of the Trump-Kim Jong-un summit in Singapore. Giuliani also said that the raid on Michael Cohen's office, home, and hotel room, and the leak of potential Mueller questions for Trump added to hesitancy.
Giuliani said that he had hoped to have a decision made about a Mueller sit-down by May 17, but there were more pressing matters at hand.
"I wouldn't want to take his concentration off something far, far more important," he said. "Several things delayed us, with the primary one being the whole situation with North Korea."
"The president has been very busy. It really would be pretty close to impossible to spend the amount of time on it we would need," he added.
As was this case then, this is more evidence that Trump has no intention of talking to Mueller anytime soon.
It's also worth noting that when Trump said, "I think that the report yesterday — maybe more importantly than anything — it totally exonerates me. There was no collusion. There was no obstruction," Giuliani expressed a different understanding from his client on the implications of the IG report.
"Well, I don't think it exonerates him," he said Saturday.
[Image via Alex Wong/Getty Images]
Have a tip we should know? [email protected]