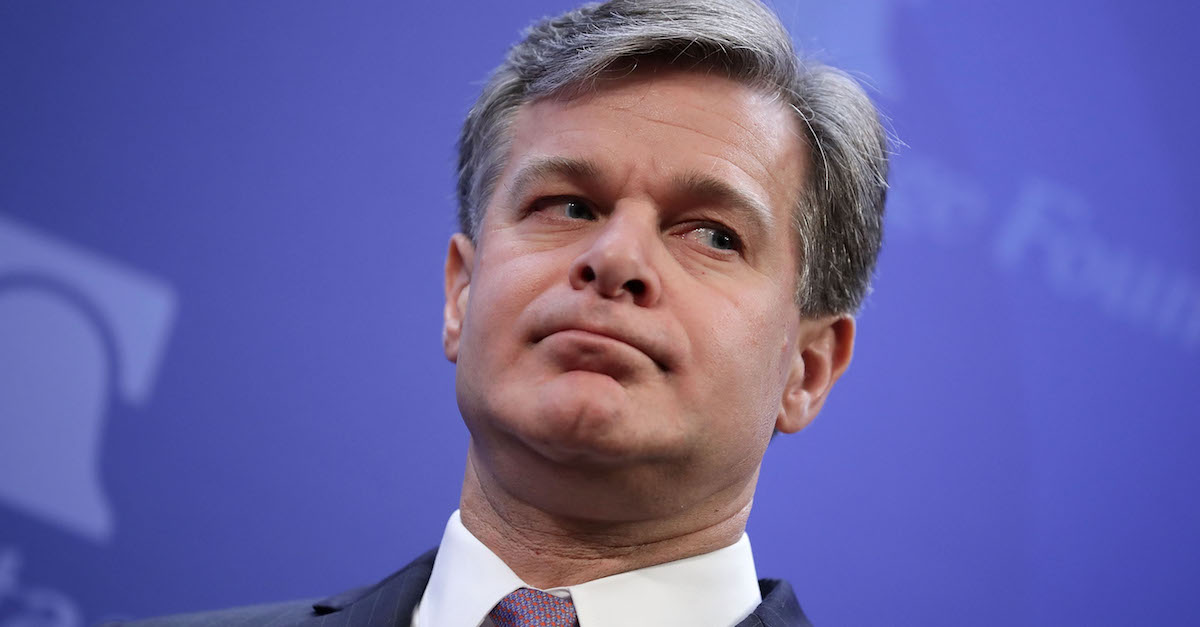 FBI Director Christopher Wray, who took over for James Comey when he was fired, appeared on Capitol Hill Monday to testify before the Senate Judiciary Committee about Inspector General Michael Horowitz's report on the handling of the Clinton Email Probe.
CNN's Jim Sciutto highlighted a comment from Wray in which he emphasized the importance of obstruction-free investigations.
"Certainly my own view is that efforts to obstruct investigations are something we need to take extremely seriously at the federal level," Wray said.
NBC News reporter Jonathan Allen said that the context of the response was an answer to a question about the decision not to prosecute a "Clinton IT guy who deleted files." He's seemingly referring to Paul Combetta and his immunity deal. 
This is a notable comment for a couple of reasons. First, Wray also defended on Monday the integrity of special counsel Robert Mueller's Russia investigation. Second, because President Donald Trump's takeaway from the IG report has been that it cleared him of any wrongdoing as far as collusion and obstruction are concerned, a comment that may itself be perceived as obstruction.
"I think that the report yesterday — maybe more importantly than anything — it totally exonerates me. There was no collusion. There was no obstruction. And if you read the report, you'll see that," Trump commented on the report that wasn't about him.
The comments by Wray could just as easily be read as referring to former Trump campaign chairman Paul Manafort, who was recently charged for obstruction after attempted witness tampering.
Trump also tweeted about the IG report a few times, in one case saying the report "totally destroys James Comey":
It's worth pointing out in the last of the three tweets Trump gave Wray a vote of confidence.
Trump attorney Rudy Giuliani, however, expressed a different understanding from his client on the implications of the IG report.
"Well, I don't think it exonerates him," he said Saturday.
The long-awaited IG report ended up being longer than 500 pages and drew some conclusions about Comey's decision-making leading up to the election.
It said his decision not to file charges against Hillary Clinton was not due to political bias, but that Comey did depart from DOJ policy by doing a solo press conference to say "no reasonable" prosecutor would charge Clinton. The report called Comey "insubordinate" for doing so.
As Law&Crime reported earlier, the report also revealed that Comey used his own personal email account to conduct government business at times. There has been no evidence gathered to suggest that he used that email to handle classified information, however.
[Image via Chip Somodevilla/Getty Images]
Have a tip we should know? [email protected]