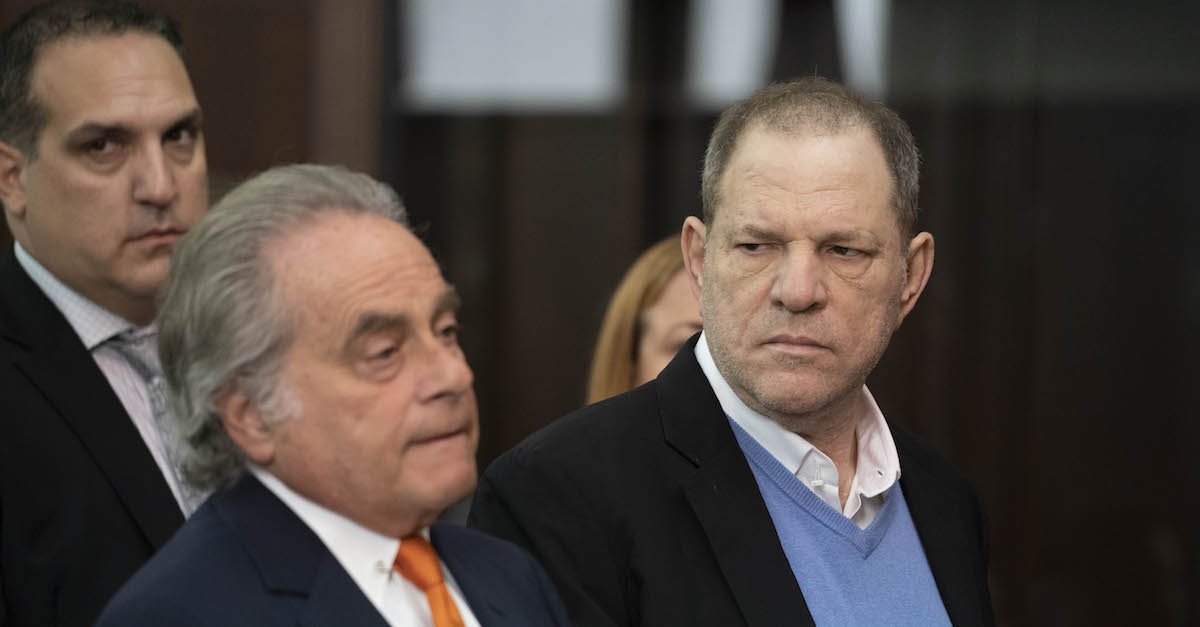 Disgraced movie mogul Harvey Weinstein is back in the news, this time because the law firm Hagens Berman filed an amended complaint on Wednesday claiming that Weinstein sexually assaulted an unidentified 16-year-old virgin in 2002. That was far from the only shocking allegation.
The class action complaint against Weinstein in the Southern District of New York has been amended to say that the woman from Poland identified as Jane Doe met Weinstein for a business lunch, but ended up at his apartment in Soho, where he allegedly "aggressively and threateningly demand[ed] sex."
Jane Doe's allegations are now included among others made by Louisette Geiss, Katherine Kendall, Zoe Brock, Sarah Ann Thomas, Melissa Sagemiller, Nannette Klatt, Melissa Thompson, Caitlin Dulany and Larissa Gomez, the complaint shows. Defendants named in the case include the Weinstein Company Holdings, LLC, Miramax Film NY, LLC, the Walt Disney Company, and more.
"Like many Class members, Plaintiff Jane Doe's experience with Weinstein occurred over a period of years (2002-2011) when Weinstein worked for Disney and Miramax, and then TWC," the complaint says.
It is alleged that Weinstein asked Jane Doe "where she was from and how old she was," that she told him she was 16 and from Poland and that he proceeded to aggressively demand sex anyway.
"He told her that if she want to be an actress, she would have to be comfortable doing whatever the director told her to do—including losing her inhibitions and getting naked. He then instructed Jane Doe to take off her clothes," the complaint reads. "Weinstein threatened and pressured Jane Doe, saying that he had 'made' the careers of Penelope Cruz and Gwyneth Paltrow, and that neither would be working without him. He intimated that Jane Doe would never work as an actress unless she acquiesced to his demands. He then took off his pants and forcibly held Jane Doe while taking her hand and making her touch and massage his penis."
Despite Weinstein's alleged angry response to Jane Doe's refusal, he apparently let her leave. The lawsuit goes on to say that Weinstein attempted to stay in contact over the ensuing years and that their paths crossed again in 2008:
In 2008, at age 23, Jane Doe returned to New York to make one final attempt at becoming an actress. When Weinstein heard that she was in town, he suggested that they meet because he "might have some ideas" to help. Jane Doe agreed. She felt more mature and capable of handling Weinstein. She thought he might be impressed that she was studying psychology in university, and that he might treat her as a person, not a sex object.
Instead, Jane Doe claims, she went to Weinstein's office and he steered her towards being a model. She claims that Weinstein offered to "set her up with representation from Marilyn, a modeling agency" and told her "she needed to get in shape […] because she was very skinny at the time."
Shockingly, Jane Doe claims Weinstein was at one point distracted by a Christina Aguilera performance on television, said "Wow, I'd really like to fuck that pussy" and proceeded to fondle himself. The woman says she "froze" and then fled the office. Weinstein purportedly followed up after this incident to ask if she was interested in modeling on Project Runway, and she said yes.
Weinstein's lawyer Benjamin Brafman denied the new allegation.
"This claim is preposterous. Like so many other women in this case who have already been exposed as liars, this latest completely uncorroborated allegation that is almost 20 years old will also be shown to be patently false," Brafman told Law&Crime.
Hagens Berman amended Harvey Weinstein complaint by Law&Crime on Scribd
[Image via Steven Hirsch-Pool via Getty Images]
Have a tip we should know? [email protected]