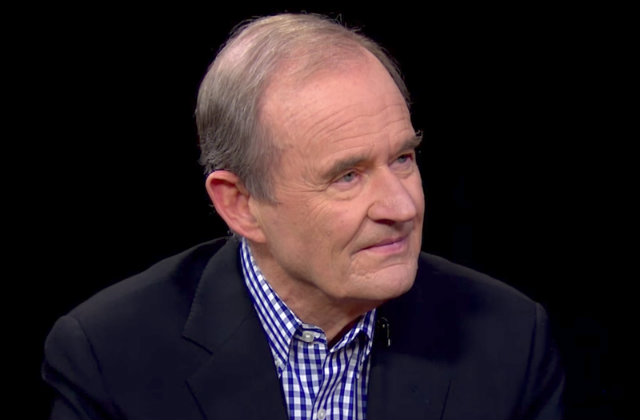 There are very few ways to adequately summarize the mindblowing allegations in a brand-new New Yorker article that reports Harvey Weinstein engaged in an ornate plot to discredit, intimidate and stop accusers from stepping forward. Hiring an intelligence firm named Black Cube (comprised of former Mossad and other Israeli intel agents) to use false identities to meet with journalists and alleged victims? Check. Attempting to squash the New York Times' bombshell sexual harassment report? Check. Relying on massive corporate firms to dig up discrediting information on accusers? Check. Relying on high-profile attorneys…check.
The names Davie Boies and Lisa Bloom are going to sound similar.
Boies played no small role in American history: He represented Democratic candidate Al Gore in the 2000 Supreme Court case Bush v. Gore. The New Yorker report said he signed the contract ordering Black Cube to uncover information stopping the Times from publishing it's story about Weinstein's alleged sexual harassment. That's not necessarily what makes this problematic for him, however. It's this: At the time, his law firm Boies Schiller Flexner represented the Times in a libel lawsuit.
He denied this was a conflict of interest.
From the New Yorker article:
From the beginning, he said, he advised Weinstein "that the story could not be stopped by threats or influence and that the only way the story could be stopped was by convincing the Times that there was no rape." Boies told me he never pressured any news outlet. "If evidence could be uncovered to convince the Times the charges should not be published, I did not believe, and do not believe, that that would be averse to the Times' interest."
Still, Boies voiced concern about the overall scheme. He said he didn't believe former attorneys should criticize former clients, but he also acknowledged that Weinstein admitted a degree of wrongdoing.
"In retrospect, I knew enough in 2015 that I believe I should have been on notice of a problem, and done something about it," Boies said. "I don't know what, if anything, happened after 2015, but to the extent it did, I think I have some responsibility. I also think that if people had taken action earlier it would have been better for Mr. Weinstein."
Over 70 women have claimed Weinstein sexually harassed them or worse. Allegations sprouted out after the Times' bombshell Oct. 5 article which detailed sexual harassment settlements with eight women.
Boies confirmed to the New Yorker that his law firm hired and paid two agencies involved in the scheme, and he got reports from one of them. He gave these reports to Weinstein, he said. Boies said this was a mistake.
"We should not have been contracting with and paying investigators that we did not select and direct," he told The New Yorker. "At the time, it seemed a reasonable accommodation for a client, but it was not thought through, and that was my mistake. It was a mistake at the time."
Bloom only appears in the story once, and isn't directly tied into the plot the way that Boies is. But details shows that she was apparently implicated in an attempt by Weinstein to discredit the alleged victims. Pamela Lubell, a former Miramax producer who felt guilty about her own involvement, was the source for this scene (emphasis ours):
Lubell told me that hours before the first Times story broke, on October 5th, Weinstein summoned her, Doyle Chambers, and others on his team, including the attorney Lisa Bloom, who has since resigned, to his office. "He was in a panic," Lubell recalled. "He starts screaming, 'Get so-and-so on the phone.' " After the story was published, the team scrambled to respond to it. Bloom and others pored over pictures that, like the ones featured in the Kroll e-mails, showed ongoing contact between Weinstein and women who made allegations.
(Context: The article says Kroll, a corporate intelligence company, played a role in finding pictures meant to discredit Rose McGowan. The photos showed her being friendly with Weinstein after he allegedly assaulted her.)
These details support a New York Times report from October, showing that Bloom sent photos to Weinstein Company board members showing alleged victims being friendly with the movie mogul.
From the article:
As the board convened an emergency phone meeting on Thursday evening to address the allegations, published in an investigation by The Times, Ms. Bloom sent an email to board members attacking the article. She outlined a plan that involved "more and different reporting," including "photos of several of the accusers in very friendly poses with Harvey after his alleged misconduct."
Bloom, who resigned as Weinstein's attorney on Oct. 7, firmly pushed back.
Ms. Bloom said on Saturday that there was a large team handling Mr. Weinstein's defense and that she personally "did not release photos of accusers" to the press.
She also commented to HuffPo at the time.
Bloom told HuffPost in an email that she did not have plans to gather or share photos of his accusers, but she declined to share the full copy of her emails with the board.

"There was no 'plan.' I was simply pointing out that there was intense media interest in the story and there would be more to come," Bloom said. "That everyone should take a breath and wait until an investigation got to the bottom of the facts and then make a decision."

"Hard to understand how someone could criticize that approach but the board would not have it until later they decided to do exactly that."
Law Newz reached out late Monday to her and David Boies for a statement about the New Yorker report.
A Weinstein spokesperson denied wrongdoing when the New Yorker reached out to her for comment.
"It is a fiction to suggest that any individuals were targeted or suppressed at any time," Sallie Hofmeister said.
In a statement, Black Cube told the New Yorker they couldn't confirm or deny anything, but said they operated in an ethical, legal manner.
Law Newz reached out to Kroll late Monday for comment.
Update – Nov. 7, 3:04 p.m.: Law Newz obtained a letter Boies wrote to his firm's employees on Tuesday. He roughly echoed what he told The New Yorker, but also said that the Times previously acknowledged the possibility there could be conflicts of interest.
I also want to address the issue of whether there was a conflict of interest with the Firm's representation of the New York Times. First, when we were engaged by the Times we made clear that we needed to be able to continue to represent clients adverse to the Times on matters unrelated to the work we were doing for the Times. Our Engagement Letter, countersigned by the Times, expressly states:

"We have explained and you have agreed that as a result of the types of clients the Firm advises and the types of engagements in which we are involved, we may be requested to act for other persons on matters which are not substantially related to the Engagement, where the interests of the other persons, and the Firm's representation of them, may be against the client's, including adversity in litigation."
Law Newz reached out to The New York Times for comment.
[Screengrab via The Charlie Rose Show]
Have a tip we should know? [email protected]