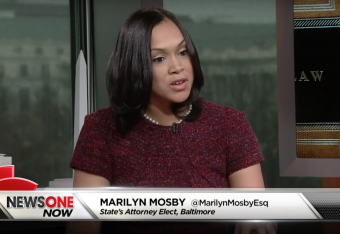 The prosecutor at the center of the Freddie Gray case has been slapped with a complaint seeking her disbarment. A law professor at George Washington University School of Law has filed the disciplinary complaint with the Attorney Grievance Commission of Maryland against Baltimore State's Attorney Marilyn Mosby.  LawNewz.com has learned that the complaint seeks the disbarment of Mosby for her conduct regarding the investigation and prosecution the six police officers for the death of Freddie Gray.
According to the complaint, filed by Prof. John F. Banzhaf, Mosby violated multiple provisions of the Maryland Lawyer's Rules of Professional Conduct (RPC) including withholding exculpatory evidence, making improper public statements and continuing to prosecute a case after there is insufficient evidence to support a conviction.
"In many situations somebody with legal knowledge to file a complaint — such as an attorney in private practice — would be relunctant to do so because they dont want to stir up controversy…. So, the only group that remains able to do soemthing like this would be law professors.  They have legal skill … and we are reasonably impartial," Prof. Banzahaf said to LawNewz.com.
He added, "I do not represent anyone in the case, I have no direct involvement and I'm not in Baltimore.  That makes me about as impartial as you can get."
Several news reports and developments in the Freddie Gray cases over the past few weeks also played a large role in Prof. Banzhaf's decision to file complaint.  Specifically, the allegations from the lead investigator who claims prosecutors misled the grand jury in order to obtain an indictment. An affidavit from a Baltimore Sheriff's investigator who says they played a minimal role in the investigation.  Mosby has claimed the Sheriff's Office conducted its own independent investigation of Gray's death, but in the new affidavit the investigator strongly denies the claims, saying he had "no involvement in the investigation whatsoever."
Prof. Banzahf has a history of involvement in high profile cases against overzealous prosecutors.  Most notably, he played a role in the disbarment and civil litigation against Duke lacrosse prosecutor Mike Nifong.  Banzahf also told LawNewz.com he sees a lot of similarities in how Nifong conducted himself in the Duke lacrosse case to how Mosby has conducted herself in the Freddie Gray matter.
Civil lawsuits have already been filed against Mosby by five of the six police officers she charged in the case. LawNewz.com reached out to Mosby's office for comment, but haven't heard back.
Of the six officers charged in the case, two have been acquitted at bench trials and a third, William Porter, is currently awaiting retrial after jury was one vote short of acquitting him of involuntary manslaughter charge after a trial last year.  The three other officers still awaiting their original trials all filed motions earlier this week asking the court to dismiss the charges against them.  A pretrial hearing in the case against Lt. Brian Rice is scheduled for July 5.
View the bar complaint here:
Have a tip we should know? [email protected]