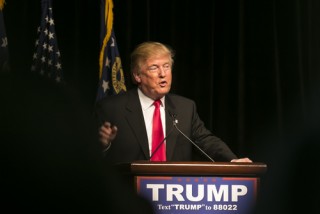 LawNewz.com has learned a nonprofit, nonpartisan group, The Campaign Legal Center, has filed a federal complaint against Donald Trump for allegedly illegally soliciting money from foreign nationals to fund his presidential campaign.
"Donald J. Trump's presidential campaign committee is violating black-letter federal law by sending campaign fundraising emails to foreign nationals — including foreign politicians — in at least Iceland, Scotland, Australia and Britain," the group said in a statement.  The group filed a complaint with the Federal Election Commission highlighting this violation.
"If the FEC fails to take action on our complaint, it could send a message that Trump and other candidates have the green light  to fundraise overseas," said Paul Ryan, the deputy executive director of The Campaign Legal Center.
The complaint contends that this month, Trump's campaign sent dozens of prominent Icelandic, Scottish, Australian and British politicians fundraising emails seeking donations. Trump was likely trying to drum up support after the recent 'Brexit' vote in which the U.K. voted to leave the European Union. In fact, the group says when Trump was in Scotland promoting his golf course, members of the parliament received emails urging them to donate.  LawNewz.com reached out to Trump's campaign for comment but have not heard back. We will update this post as we get more information.
If the allegations are true, federal law is pretty clear on this (See number 2): 
It shall be unlawful for-

(1) a foreign national, directly or indirectly, to make-

(A) a contribution or donation of money or other thing of value, or to make an express or implied promise to make a contribution or donation, in connection with a Federal, State, or local election;

(B) a contribution or donation to a committee of a political party; or

(C) an expenditure, independent expenditure, or disbursement for an electioneering communication (within the meaning of section 30104(f)(3) of this title); or

(2) a person to solicit, accept, or receive a contribution or donation described in subparagraph (A) or (B) of paragraph (1) from a foreign national.
Here is a copy of the complaint:
Complaint Against Donald Trump
Have a tip we should know? [email protected]
Rachel Stockman - President / On Air Host