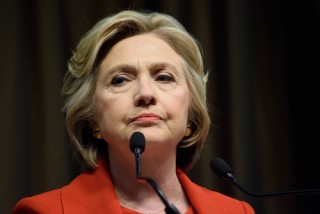 As we've reported many times, when it comes to the FBI investigation into Hillary Clinton's private email server no one really knows what is going on, but there are many legal experts pontificating. There are reports that the investigation could wrap up weeks, or maybe months.
FBI Director James Comey is notorious for keeping his investigations very close to the vest. In fact in order to prevent leaks, agents working the case have reportedly been told they might be polygraphed. Repeatedly over the last few months, Fox's Judge Andrew Napolitano has been one of the strongest voices saying that Clinton's conduct was nothing short of criminal.
During his frequent Fox television appearances, he often insinuates he has some inside knowledge about what's going on — like for example, when he said that the FBI has "overwhelming" evidence to indict and convict Clinton.
In today's column on FoxNews.com, in an effort to essentially prove that Clinton is a liar and lied about not being contacted for an FBI interview.  Napolitano claims he knows that's not true. He asserts Clinton's lawyers have indeed been contacted by the DOJ. Read the full passage for context:
 She is running for president. She lies frequently. We know this because, when asked if the FBI has reached out to her for an interview, she told reporters that neither she nor her campaign had heard from the FBI; but she couldn't wait to talk to the agents.

That is a mouthful, and the FBI knows it. First, the FBI does not come calling upon her campaign or even upon her. The Department of Justice prosecutors will call upon her lawyers — and that has already been done, and Mrs. Clinton knows it. So her statements about the FBI not calling her or the campaign were profoundly misleading, and the FBI knows that. (emphasis added)
At this point, I could find no other outlet that has reported that Clinton's attorneys have been contacted by the FBI or the U.S. Department of Justice to set up an interview (if you find one let me know). That's not to say it isn't true, as it would make sense that they would contact her attorney (not her) to set up an interview. Clinton's spokesperson, Brian Fallon, admits that her attorney has been 'in touch' with DOJ 'throughout this review', but he says they have not been called yet to set-up an interview.   Napolitano does not provide a source for his information — not even an anonymous government official.  I contacted Clinton's attorney, David Kendall, who told me "no comment."
As recently as Sunday, Clinton said on CBS that "No one has reached out to me yet … I'm more than ready to talk to anybody, anytime, and I've encouraged all of my assistants to be very forthcoming and I hope this is being close to being wrapped up."
Editor's Note: I added in information about Brian Fallon's interview after a reader brought it to my attention. Thanks for doing so. 
Have a tip we should know? [email protected]
Rachel Stockman - President / On Air Host