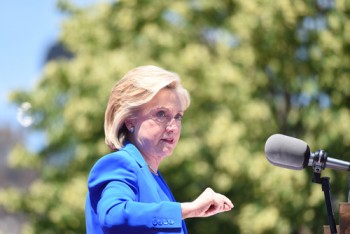 A former FBI Assistant Director accused Hillary Clinton of using misleading language in response to a question at Thursday night's debate about the ongoing FBI investigation into her use of a private e-mail while serving as Secretary of State, according to a recent report.
As part of the effort to deflect democratic primary voters' concerns surrounding the FBI investigation into her use of a private e-mail server, during Thursday night's debate Clinton described the ongoing FBI investigation as merely a "security review" and said she was "100% confident" the probe would find no wrongdoing on her part.
However, according to Steve Pomerantz — a former Assistant Director in Charge of the Criminal Justice Informational Services Division of the FBI — such claims are nothing more than wishful thinking on the part of Clinton and her campaign team.
In an interview with Fox News Chief Intelligence correspondent Catherine Herridge, Pomerantz explained, "There is no mechanism for [Clinton] to be briefed and to have information about the conduct, the substance, the direction or the result of any FBI investigation."  He also said the FBI is not in the business of conducting security reviews, telling Herridge the FBI primarily conducts criminal investigations and that is clearly what they are doing in this instance.
According to the same report, a separate intelligence source familiar with the matter referred to Clinton's claims as a "typical Clinton diversion."
[h/t Fox News; image via shutterstock]
Have a tip we should know? [email protected]