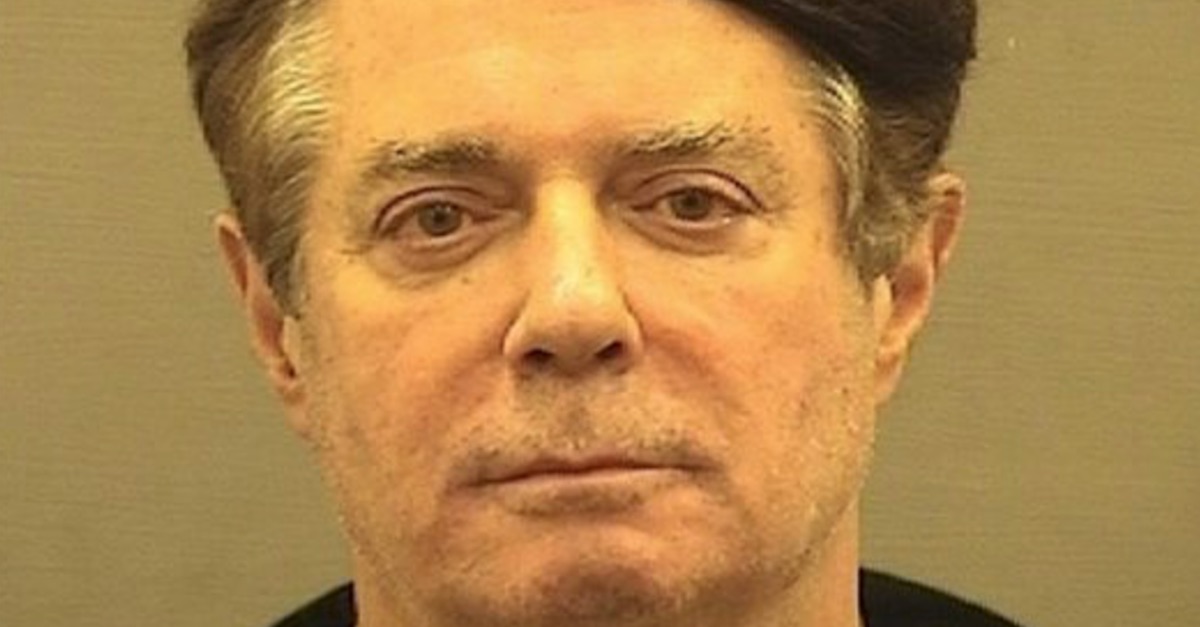 One thing everyone can agree on, even Paul Manafort, is that he is in a situation with only two options: cooperate or hope for the best (presidential pardon). With a conviction on eight felony counts in Virginia, a guilty plea in D.C., a judicial ruling that he repeatedly lied in breach of a plea deal, and a mountain of evidence against him, right now Manafort faces the possibility of spending the rest of his life behind bars. The situation is exacerbated by Manafort's poor health.
Manafort, 69, could get more than 20 years in prison if he stays on his current course, which is why Nick Akerman, a former federal prosecutor in the Southern District of New York and a former Watergate assistant special prosecutor, believes that there remains the possibility that Manafort will cave. Akerman alluded to the mountain of evidence, but also praised Special Counsel Robert Mueller in an op-ed on the subject, calling Mueller's Manafort indictments "prosecutorial masterpieces."
Prosecutors already got a judge to agree that Manafort lied to them, particularly about the sharing of Trump campaign polling data with Russian national Konstantin Kilimnik. The FBI believes Kilimnik is connected to Russian intelligence like the GRU (the Russian intelligence agency that allegedly perpetrated the 2016 hack of the DNC and WikiLeaks dump to damage Hillary Clinton's campaign).
Akerman suggests that now that Manafort has sunk this low "he may go back and actually cooperate with the Mueller investigation." He said that assumptions that cooperation is impossible, given what we've already seen from Manafort, is wrong.
"The possibility of Manafort really cooperating after being hammered with a huge sentence has been hardly mentioned in the press," Akerman. "This failure to recognize what might happen next with Manafort is premised on the faulty assumption that Manafort's long trail of lies and duplicitous dealings with the government nullifies his ability to be an effective witness. In my experience as a prosecutor, however, this is not necessarily the case."
Akerman explains that Manafort has "up to one year after the date of his sentencing to ask the court for a reduction of sentence based on cooperation." Manafort may have been convicted but he hasn't been sentenced, although Mueller has moved quickly to try and make that happen. That move by Mueller could be seen as a way to start the cooperation clock Akerman is talking about and further back Manafort into a corner.
This isn't the only reason that cooperation is still on the table, however. Prosecutors often deal with witnesses who are liars, cheaters, and generally "unsavory" characters, Akerman said. He named Manafort's former associate Rick Gates, Trump's ex-lawyer Michael Cohen, and fired Trump national security adviser Michael Flynn to show cooperation is possible despite what we'll call … messiness.
The difference with Manafort is that he is the only one among them who has been accused of lying after cutting a deal with Mueller in breach of said deal, so we don't yet have an idea of how the special counsel will respond here.
Either way, Akerman said, President Donald Trump should be "worried" because the Manafort indictments were "prosecutorial masterpieces."
"In this case, many of Mueller's witnesses — including Manafort — held positions of trust with Donald Trump and had access to and conversations with the president at periods of high interest for Mueller's team," he said. "Mueller's Paul Manafort indictments were prosecutorial masterpieces. Trump should be worried."
[Image via Alexandria Detention Center]
Have a tip we should know? [email protected]