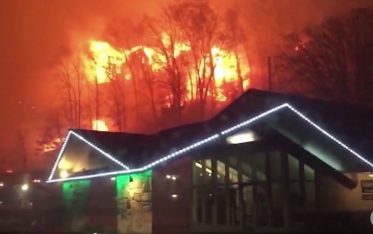 Authorities in Tennessee held a press conference today where they announced two juveniles have been charged with aggravated arson in connection with the deadly wildfires that burned through the Gatlinburg, TN area in recent weeks.
The names of the two teen suspects were not immediately released, but WATE ABC 6 News reports authorities have them in custody at the Sevier County Juvenile Detention Center.  Authorities say they are still determining whether to charge the juveniles as adults .
The arrests were announced at a news conference on Wednesday afternoon.
WATCH:
Tennessee Bureau of Investigation (TBI) Director Mark Gwyn told reporters the two juveniles were arrested Wednesday and are expected to appear at a detention hearing within 72 hours.  Gwyn said additional charges may still be filed in this case.
District Attorney General Jimmy Dunn also spoke to reporters and the juvenile suspects  are from Tennessee, but not from Sevier County — where the fires started.
Dunn is still deciding whether the juveniles should be charged as adults.
Authorities have directly attributed 14 deaths to the fire.  TN Gov. Bill Haslam has called the blaze the largest fire in the state in the last 100-years.
[image via screengrab]
Have a tip we should know? [email protected]