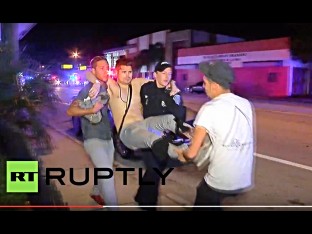 In a new court filing on Monday, the Department of Justice said they will continue to withhold audio recordings of 911 calls made during last month's deadly terror attack at an Orlando nightclub.
The Orlando Sentinel reports the motion filed on Monday by Assistant U.S. Attorney Sean Flynn is latest development in the ongoing battle between the feds, the City of Orlando and several news agencies that are seeking to obtain records from the shooting.  Flynn argued that the records are under control of the FBI because the Bureau is leading the investigation through its Joint Terrorism Taskforce.
According to the report, at least two dozen news outlets filed a lawsuit in state court seeking to have the records released under Florida's Public Records Act.  The news outlets argued there is "strong public interest in fully evaluating how first responders and police reacted during the most critical phases of this incredible tragedy."
The City of Orlando has reportedly refused to release the audio, citing an FBI directive to not release it and a provision in the state law that might exempt portions of police records that depict victims being killed.
Last week, however, the DOJ attempted to move the case to federal court.  Thus, before any determination can be made on the release of the audio recordings, a decision will have to be made about which court has jurisdiction to hear the lawsuit.  The newspaper states no hearings have been scheduled on the matter in either state or federal court.
Have a tip we should know? [email protected]