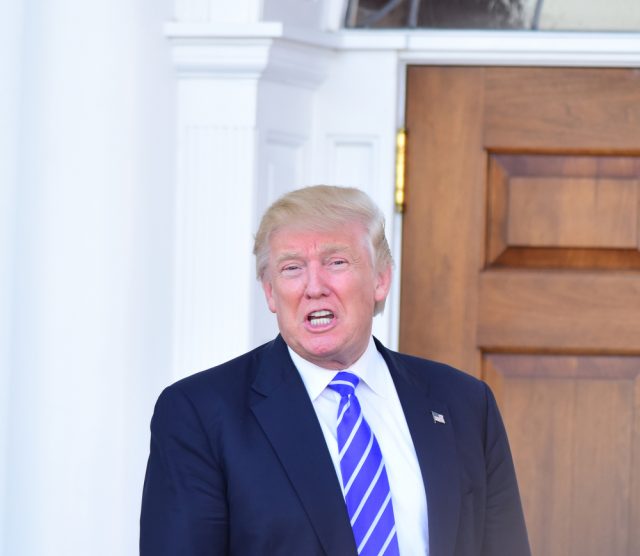 A number of lawsuits have been filed against Donald Trump from literally the moment he was sworn in, but one filed Monday morning seems to be getting some extra attention given it was brought by an assortment of bipartisan legal scholars who have made no secret of their dislike of the 45th president.
This latest lawsuit alleges that President Trump is already violating the Constitution by allowing his businesses to take payment from foreign government.
The lawsuit focuses on the Constitution's Emoluments Clause, a provision LawNewz has explained in depth. The attorneys argue any payment from foreign powers to Trump's companies (Pennsylvania Avenue hotel, golf courses, etc.) amounts to a violation of the Constitution because payments from foreign leaders could potentially corrupt and influence the president.
"These violations of the Foreign Emoluments Clause pose a grave threat to the United States and its citizens. As the Framers were aware, private financial interests can subtly sway even the most virtuous leaders, and entanglements between American officials and foreign powers could pose a creeping, insidious threat to the Republic," the lawsuit reads.
The lawsuit seeks no monetary damages, just a court order barring Trump from taking any payments from foreign governments, period.
Trump's son Eric, who is now in charge of running the day to day of the business of the company (along with his with his brother, Donald, Jr.) dismissed they allegations and said the Trump Corp., has gone above and beyond in ensuring its activities are legal, including verifying that all is well with the United States Treasury.
"This is purely harassment for political gain, and, frankly, I find it very, very sad," Eric Trump told The New York Times on Sunday.
What's more, they say the president's own lawyers have taken the position that fair-market value transactions are not covered by the Emoluments Clause because it was designed to prevent federal officials from obtaining special consideration or gifts from foreign powers.
"No one would have thought when the Constitution was written that paying your hotel bill was an emolument," Sheri A. Dillon, a member of Trump's legal team, said last month.
While the lawyers who filed the lawsuit are no doubt confident on the merits, a law professor at the University of Iowa says Trump's hotel and other business are not Emoluments Clause concerns or violations – because they pay a corporate entity, not Trump himself.
"There is no connection between the payment and performance of services by the president personally," Prof. Andy Grewal explained to the newspaper. "It would be a lot of fun to watch . . . but I imagine it will be kicked out."
Furthermore, other legal experts say the group would have a very difficult time proving it has standing through demonstrating it will suffer actual injuries – a necessity for any lawsuit. As the article notes, outside of civil rights challenges, the Supreme Court since 1982 has been reluctant to grant standing in a broad, general sense.
The group filing the lawsuit, known as CREW, however, argues it can demonstrate sufficient harm "by having to divert resources from other work to monitor and respond to Mr. Trump's activities" . . . including having to respond to "hundreds of questions from news organizations."
LawNewz reached out to Prof. Tribe for comment, but we have not heard back by publication time.  We will update the article as soon as we hear from Prof. Tribe.
It should also be noted, this is not even CREW's first lawsuit against Trump. On Friday, the group filed another lawsuit against the General Services Administration, arguing Trump has already violated his lease with the government on his hotel at the Old Post Office on Pennsylvania Ave. The A.C.L.U. likewise filed a similar lawsuit as well.
Another member of the legal minds behind the lawsuit, Richard Painter (a former Bush administration ethics lawyer) appeared on CNN Monday early morning to defend the lawsuit.
This article has been updated at 9:56 a.m. with a link to the actual lawsuit, and provides substance from what the legal filing contains. 
[image via katz / Shutterstock, Inc.]
Have a tip we should know? [email protected]