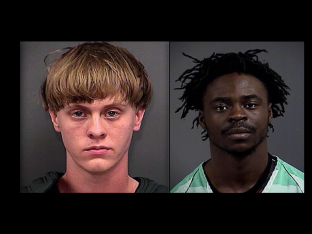 The man accused of killing nine people in June 2015 at the Mother Emanuel AME church in Charleston was reportedly assaulted by an African-American inmate on Thursday.
Live 5 News reports Charleston County Sheriff Al Cannon held a press conference on Thursday to announce an investigation is underway to determine how another inmate was able to attack Dylann Roof in the jailhouse showers.
According to the report, Roof, who is currently being held in solitary confinement, was let out of his cell around 7:45 AM to take a shower.  As he approached the shower area, another inmate, identified as Dwayne Stafford, reportedly ran down a flight of stairs and attacked him.
Cannon told reporters that officers quickly moved in to break up the altercation, but not before Roof reportedly suffered some bruising on his face and back.  Stafford reportedly did not attack Roof with any weapons, just his fists.
Roof, who is currently awaiting trial on death penalty charges related to the church murders, is supposed to be held in solitary confinement, away from any other prisoners.  He is also supposed to be with a guard at all times when he is out of his cell.  However, the guard accompanying Roof was apparently around the corner dropping off toilet paper at the time of the incident.
Cannon said the investigation is focused on the conduct of the guards and how Stafford was able to get out of his jail cell at the same time as Roof.
"We are looking at the issue of the door lock and what may have failed there," Cannon said, according to Live 5 News. "This serves as a wake-up call.  Up and down the chain, we have to ensure that our folks do not fall prey to the routine."
Stafford was in jail on charges of strong-arm robbery and lying to police.
Roof's lawyers reportedly said their client has no intention of filing charges against Stafford over the assault.
[images via Charleston County]
Have a tip we should know? [email protected]