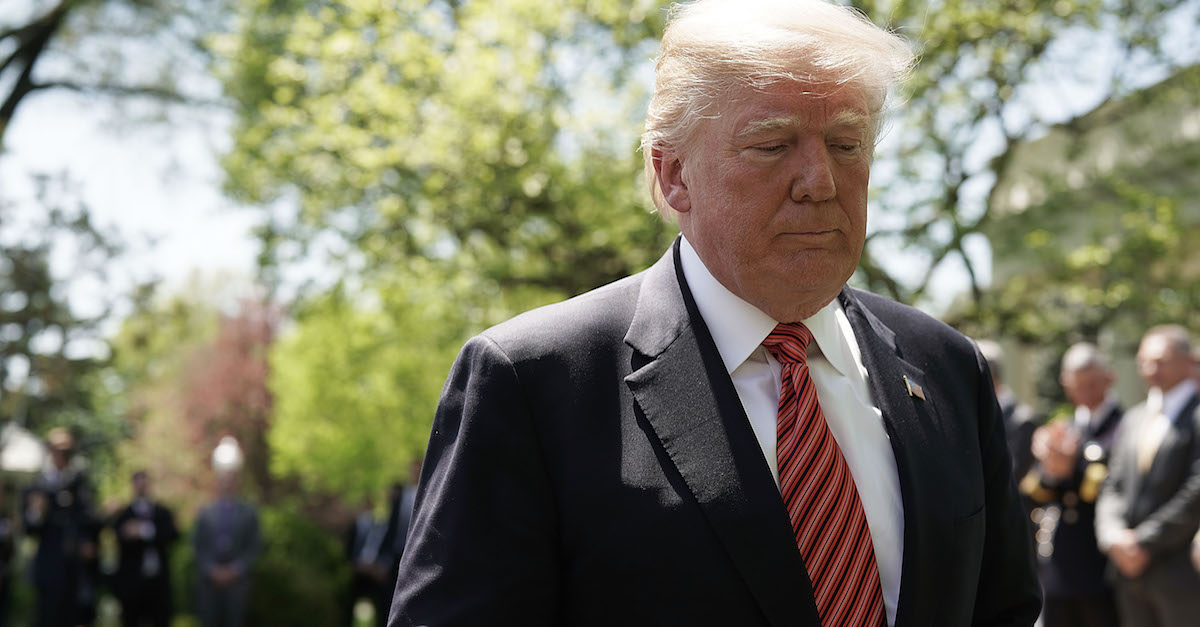 President Donald Trump's legal team turnover continues as the White House special counsel handling the response to the Russia investigation, Ty Cobb, has retired and will reportedly be replaced by Emmet T. Flood, who notably was one of the lawyers who represented Bill Clinton during impeachment proceedings.
The New York Times reported Wednesday afternoon that Cobb told Trump weeks ago he wanted to retire but would likely stay on until the end of the month to help Flood with onboarding.
"It has been an honor to serve the country in this capacity at the White House," Cobb said. "I wish everybody well moving forward."
There are some other things to note from the report.
Flood has apparently been targeted for sometime as a hire. The Times reported that the possibility of bringing Flood on was broached during the summer of 2017. Flood decided against it because he didn't like the idea of working with Trump lawyer Marc Kasowitz.
The hire comes in the wake of some whirlwind legal drama. John Dowd's resignation on March 22 was the first domino. Then Trump reportedly attempted to hire Ted Olson and Joseph diGenova. Olson said no and diGenova had a conflict. So did diGenova's wife Victoria Toensing.
In between then and now, Michael Cohen, Trump's longtime personal attorney had his office, hotel room and home raided by the FBI after Special Counsel Robert Mueller's office referred an investigation to the Southern District of New York.
Trump has also added former New York City Mayor Rudy Giuliani and Martin and Jane Raskin to his team.
While Flood's hire has not been finalized, it is expected, and though he did represent Clinton during impeachment proceedings, he didn't have a prominent role.
He was the top dog in the White House Counsel's Office during George W. Bush's second term as president, so between that and the Clinton impeachment history he seems like an experienced choice.
According to Flood's Williams & Connolly bio, the law firm where he is a partner, Flood "represents individuals, corporations and professional services firms in complex white-collar matters, Congressional investigations, professional liability disputes, and other high-stakes litigation and crisis situations."
He's represented the aforementioned Bush in "executive privilege-related disputes involving the House Judiciary Committee and Obama administration after President Bush left office" and former Vice President Dick Cheney when former CIA operations officer Valerie Plame filed suit in the Scooter Libby case.
Libby was pardoned by Trump on April 13.
[Image via Alex Wong/Getty Images]
Have a tip we should know? [email protected]